Provincial cannabis store limits and their impact on retail chains
Opening a cannabis retail store requires more than just a passion for the plant. It's a lot of hard work, a willingness to understand complicated and strict provincial and government guidelines, and perhaps most importantly—unparalleled patience.

Regulatory requirements for cannabis retailers set by the Canadian government dictate everything from product display to store layout, location, and what can be seen from the storefront. Moreover, in all cases across Canada, if a chain retailer is granted a cannabis licence, they also face a business cap. Since the provinces and territories were tasked with setting their own rules and regulations around licensing and how cannabis would be sold, that cap looks a little different across the country. However, the impact on retail chains is very much the same.
In BC, there is no cap on the number of retail licences that will be issued. However, one licensee can only hold or have interest in a total of eight retail licences.
Alberta also does not have a cap on the number of retail licences that will be issued, but a licensee can only occupy 15% of the market.
"The cap challenges growth and locks retailers into a process where there are no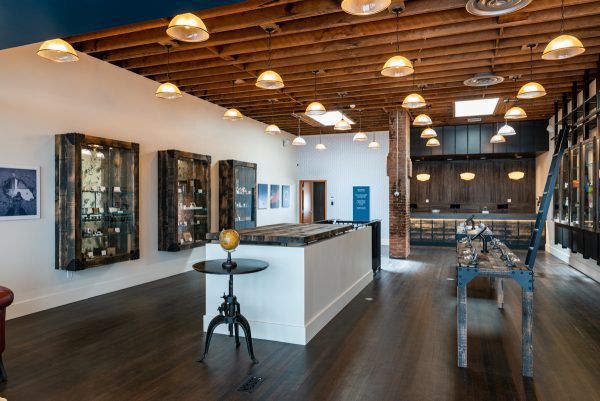 guarantees your location will ever get the green light to set up shop," explains Geoff Dear, President of Muse Cannabis. "In BC for example, we can only have eight locations in the queue with the Liquor Cannabis Regulation Branch. This means we go all in, while missing out on other potential locations. Right now, our growth is glacial."
In the digital age of online retail, Alberta and BC put up a wall for their cannabis stores. The only way customers can buy their cannabis online in those provinces is through online stores operated by the provincial government. For retailers in BC and Alberta, it's crucial to have a strategy when selecting possible locations. "The cap has forced us to weigh locations against the likelihood they will get approved," Dear says. "In some cases, we've had to give up a perfect location in order to go where we feel there are better odds of getting the necessary approvals."
Provinces like Manitoba and Ontario have a hard limit on retail licences. In Manitoba, the magic number is 26. In Ontario, it's 75 while the market stabilizes. Both provinces held lotteries or a competitive bidding process to support the limited cannabis retail. In that respect, some chains were likely at an advantage in the process. In Manitoba, for example, while 25 retail licences are available, six companies dominate the market. While physical locations are very much limited, both Manitoba and Ontario allow their stores to sell products online.
Similar to Manitoba and Ontario, Newfoundland and Labrador have a cap on the number of retail licences they will issue (as of this writing, there are 25 privately operated cannabis stores open for business). Unlike Manitoba and Ontario, the province of Newfoundland is the exclusive online retailer of non-medical cannabis in the province.
Cannabis store limits across the country make business growth a slow, uphill battle for chains, however, there is a silver lining to all the growing pains.
"When you combine a brand new industry with regulation and administration from three levels of government, the inevitable result is a lot of red tape to navigate," Dear says. "But it's important to remember that we're only one year in. I'm hopeful that with time, this over-regulation will be replaced with a more balanced approach, the limit on recreational cannabis stores will expand, and the market will support growth on a level playing field. "
Photos courtesy of Muse Cannabis.
Tags:

Canada Cannabis

(135)

, cannabis retailer

(77)

, Cannabis store limits

(1)

, Geoff Dear

(1)

, Muse Cannabis

(3)