How One Toronto Store Stands Out To Customers
A cannabis retail store in Toronto recently held its grand opening. There was a live band and swag bag giveaways. From the outside, it looks like just another cannabis store, however, The Neighbourhood Joint (TNJ), a family business co-owned by father and son Brian and Andrew Rhodes, is anything but run of the mill.
It's the closest store to the water in the Beaches neighbourhood of Toronto and inside they strive to foster a homey, welcoming vibe that fits their brand ethos of sustainability, organic products, and community.
"It's a tight-knit neighbourhood, and the entirety of Beaches strives to keep it independent. There are very few chains on Queens Street East," says co-owner Andrew Rhodes. "We are independent and family-owned, so we meshed perfectly."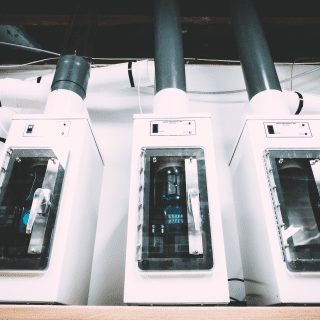 But being independently owned isn't the only thing that sets TNJ apart from the competition: they have pneumatic tubes. Yes, pneumatic tubes deliver products to the customer in a little pod. Yes, they look as cool as you think they would.
According to Rhodes, the tubes are partly an ode to old Toronto, when over 5,000 km of tubes delivered mail throughout the city, and partly a unique solution to a design problem.
When they were creating the space for the store, at first they weren't sure how to use the main floor and the basement most efficiently.
"We had to make a decision," explains Rhodes. "Do we use the basement for a staff area and my office, or do we turn the basement into a vault and increase our security and safety? And if we do that, now there is a staircase between the product and the customer, so do I hire someone to run stairs all day?"
They ended up with two options: a dumbwaiter or pneumatic tubes. Vintage dumbwaiters, like you might find in old houses and fancy estates, worked using a pulley system, but modern ones are more like small elevators. That means they can be pretty costly, around $50,000 for just one, and TNJ needed at least three.
That's when they decided on the pneumatic tubes.
"We thought not only is this going to be functional, but also a super cool way for customers to remember us and have their product delivered," he says. "Everyone loves it, it's really neat."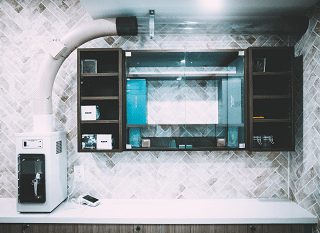 The tubes use a partial vacuum and air blower to get products from the basement to the main floor quickly and easily. It was also much more affordable. When a customer orders a product at the POS, a ticket is printed in the basement where the order is placed in a pod by the fulfillment specialist and fired back up the tube to the customer.
The tubes are one of the many ways that Rhodes is keeping things interesting for his customers. Aside from the grass wall and bright green plants, TNJ has a peg wall that changes monthly, and Rhodes says he tries to source products from all over Canada, bringing in an array of dried flower from value to premium brands, a wide selection of Cannabis 2.0 products, and a completely organic section. He wants people to find what they are looking for, but also stick around to talk to budtenders and maybe try something new.
Since opening at the beginning of August, traffic has been growing steadily as TNJ settles in, and Rhodes is excited for the future of his shop and the industry.
"I can't wait to see where it's going."
Tags:

Cannabis Retail Store

(47)

, cannabis retailer

(75)

, independent retailer

(1)

, The Neighbourhood Joint

(1)

, Toronto cannabis store

(2)