La Canapa Opens in Point Grey
La Canapa Cannabis Retail opened in Vancouver's upscale Point Grey neighbourhood at 3432 Dunbar Street on Feb 20, 2020, just a few weeks before the retail environment changed dramatically due to COVID-19.
General Manager, Grant Pang, shared his experience of opening their store with Cannabis Retailer.
Q: What makes your store unique?
We display unique, cannabis-themed paintings that are directly inspired by world famous paintings you already know. For instance, we have one of the Mona Lisa where she's holding a joint. We have others based on Girl with a Pearl Earring by Johannes Vermeer and Vincent van Gogh's 1889 self-portrait. All featured paintings were digitally altered by me.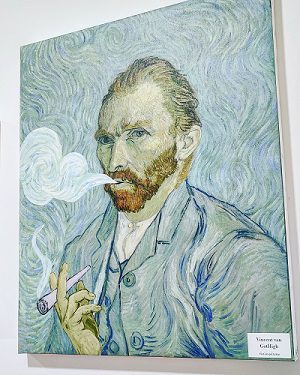 The story behind the paintings is that we wanted our cannabis retail store to really stand out. We really wanted to focus on the overall experience. As we were coming up with ideas, we saw an animated GIF online of Michelangelo's The Creation of Adam, except in this version, God is passing a blunt to Adam. That really sparked the idea of featuring cannabis-themed famous paintings in our store.
Q: Explain the journey to get your licence.
You could say it took us about 4 years and 20 days to receive our license to sell cannabis. The owner, Ian Fung, had the same chance as everyone else to sell cannabis on the grey market. Everyone else was doing it, after all. However, he decided that he didn't want to do that, because he wanted to respect the laws. Instead, we opened up the space and educated the public about THC and CBD. We also invited the neighbourhood to get to know the La Canapa team.
We faced a fair bit of opposition when we first opened at this location. The Dunbar area was quite reluctant to see us opening a cannabis store. So, we opened up the conversation and our team put in the time to foster positive relationships with the local residents and businesses.
Q: What made you decide to get into the business of owning a cannabis store?
Simply put, the reason why we decided to open up a cannabis store in this neighborhood is because we recognized the need for it in the area. When we hosted free
events at the shop, we noticed that many people over the age of 40 were interested in trying out THC and CBD. The demand and interest are definitely here.
Q: How do you select and train staff?
We hire friendly and outgoing people. It's important that customers feel welcome and have a positive experience. At the same time, we also make sure that our staff is well trained in cannabis so they'll know how to guide people to the right product for them.
Tags:

cannabisretail

(36)

, La Canapa Cannabis Retail

(1)

, Vancouver cannabis store

(3)