In a move that was bound to happen eventually, two of the top five cannabis retailers in Canada have joined forces to become number one.
High Tide Inc. and Meta Growth Corp. have entered into an agreement in which High Tide will acquire all of the issued and outstanding shares of Meta Growth. This will create Canada's largest cannabis retailer, with the behemoth boasting 63 retail locations and projected annual revenue of $133 million. High Tide will control 55% of the combined entity and lead the company, and Meta Growth will have 45%.
"The combination with META is a watershed moment in High Tide's evolution as we become Canada's largest and strongest cannabis retailer," says Raj Grover, President and Chief Executive Officer of High Tide. "Over the last decade High Tide has built a strong foundation for sustainable growth, and this transaction is another example of our ability to execute on strategy with our customers and shareholders in mind."
Before the merger, Meta Growth, formerly National Access Cannabis, had 33 locations across the country – 12 Meta Cannabis Supply Co. stores in Manitoba, Ontario, and Saskatchewan, and 21 Newleaf Cannabis locations in Alberta. Meta Cannabis Supply Co. focuses on high-end cannabis, whereas Newleaf Cannabis is a value-brand store.
Mark Goliger, CEO of Meta Growth, says, "Both companies have complementary retail footprints and similar proven operational efficiency models. We can immediately leverage synergies, increase margins, and have double the scale for the combined company's owned IP and private label initiatives. The new company is now bigger, better and stronger with positive momentum to help break through to new levels and profitability."
The acquisition bumps up High Tide's number of locations in Alberta to the maximum allowed and adds three more storefronts in the highly coveted Ontario market. According to a presentation to investors, the conglomerate now has access to 26.9 million Canadians in-store and online.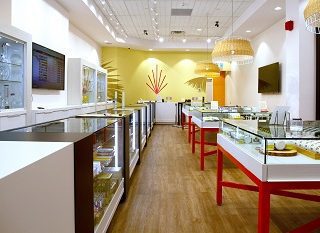 It wasn't only the expanded retail footprint that appealed to High Tide, though. In an industry finding it difficult to secure financing from traditional sources like banks, their combined $21 million in cash sweetened the pot and is helping to make their major expansion plans happen. They hope to grow to 115 stores by the end of next year.
Not only that, but Meta Growth has three different analytics arms that can provide valuable data on potential customers and the industry landscape. This can help them better serve consumers, make better decisions, and increase the $8 million to $9 million they are saving in operating costs by restructuring to make things more efficient.
Having overtaken Fire & Flower and Inner Spirit Holdings in the number of stores across Canada and annual revenue, the new entity is sitting at the top of the charts. Between High Tide's wholesale and online presence and their combined retail footprint, this newly hatched retail giant is getting ready to dominate the Canadian cannabis retail scene.
Tags:

Alberta cannabis

(42)

, Cannabis Retailers

(14)

, High Tide Inc.

(10)

, Manitoba cannabis

(15)

, Mark Goliger

(4)

, Meta Growth Corp.

(5)

, Ontario Cannabis stores

(12)

, Raj Grover

(28)

, Saskatchewan cannabis

(8)