Retail Sales Up 107% Since 2019
October 2020 marked two years of cannabis legalization in Canada, and now that Statistics Canada has released that monthly sales data, we can see how the industry is doing compared to its first birthday.
October was a markedly better month for Canadian cannabis retail. While several provinces were seeing a decline in sales in September, almost all are seeing positive action in October. Sales in Canada increased by 5.06% that month hitting over $270 million. Statistics Canada adjusted the total in September from $256.3 million to $257 million, working out to around $7.10 per person, with Canada's population of just over 38 million.
In October 2019, retail sales for the whole of Canada amounted to just under $130 million, or $3.44 per person, meaning that over the past year, sales of cannabis from licensed retailers have increased 107.74%.
Each province saw huge increases over the year as well, some even in the triple digits. The biggest winner was British Columbia, seeing a 193.39% increase from October 2019, when sales were just over $13 million, to October 2020, when sales were $38 million, bringing the per capita rate up from $2.52 to $7.38.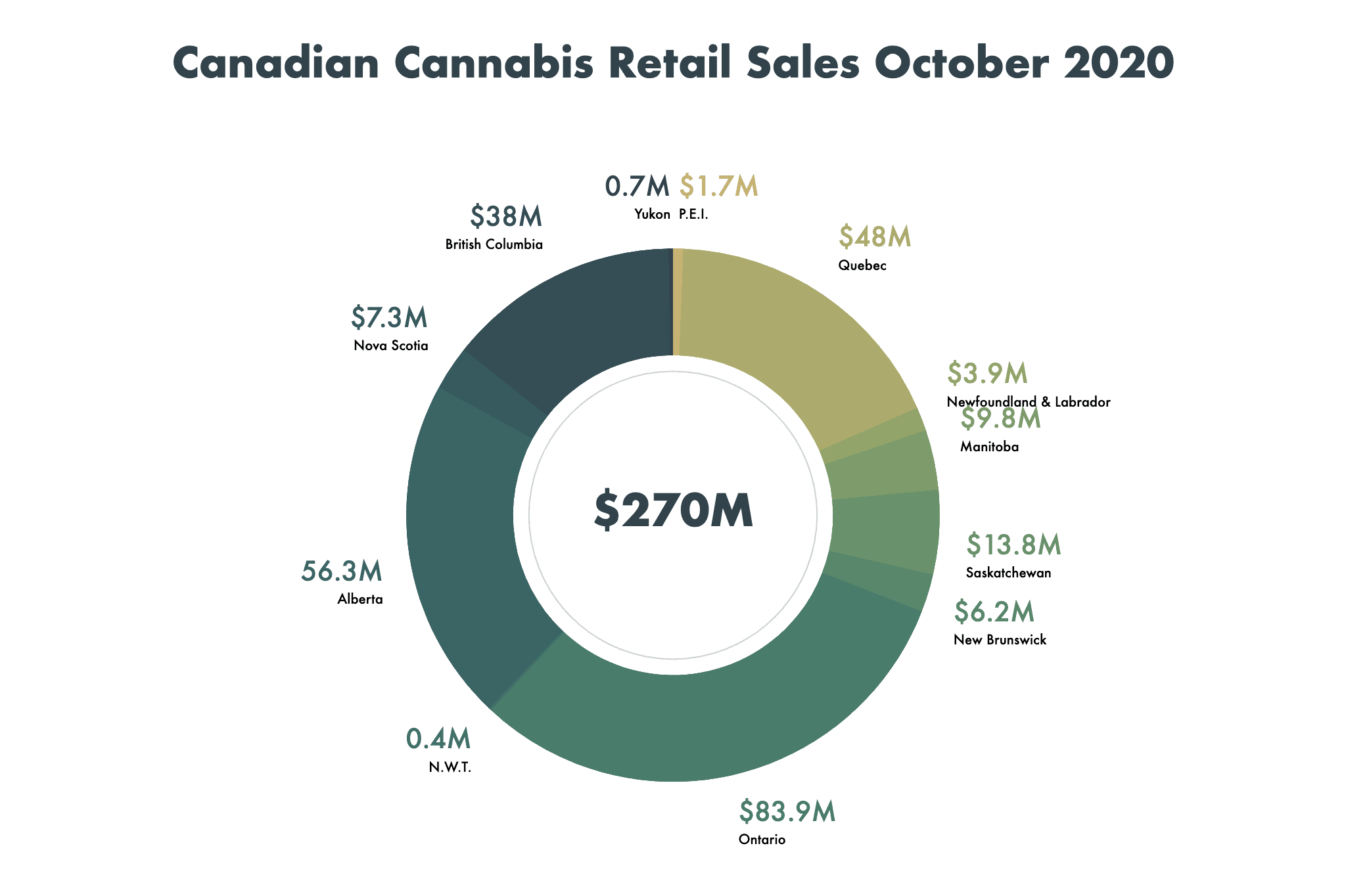 Unsurprisingly, Ontario's retail sales have increased 155.37% over the year, from $32.8 million in October 2019 to $83.9 million in October 2020.
What is surprising, however, is seeing Manitoba in the top three of year-over-year sales increases. Sales in Manitoba increased 107.91%, more than doubling from $4.7 million to nearly $9.8 million in October 2020, going from $3.42 per person to $7.08.
When it comes to sales per capita, the provinces with the lowest populations generally come out on top. For instance, holding the number one spot is Yukon, with sales of $17.50 per person, and P.E.I. is in the top five as well at $10.44. Alberta has managed to grab the second-highest sales per capita, though, at $12.72, and then Saskatchewan at $11.69.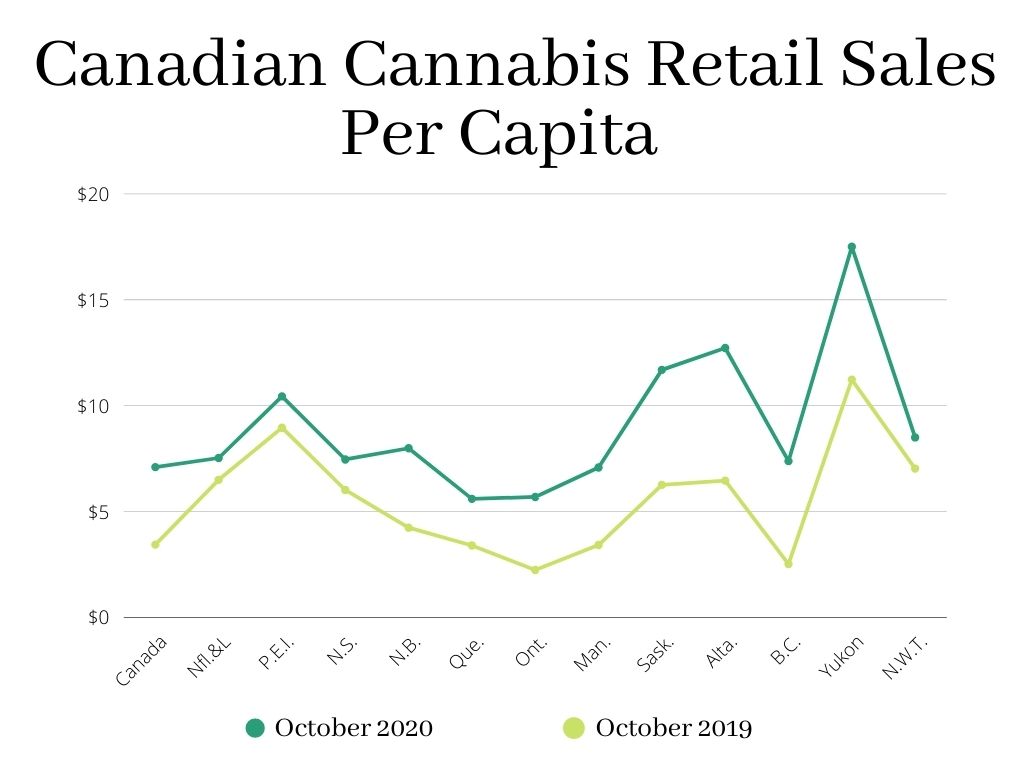 As more Canadians satisfy their cannabis curiosity, and more retailers open to meet this new demand, can we expect to see similar increases by October 2021? How much market share can licensed retailers take from the illicit market? Stay tuned next year for more analysis.
October 2020 Retail Sales (x1000)
Canada: $270,029
Ontario: $83,885
Alberta: $56,352
Quebec: $48,016
British Columbia: $37,957
Saskatchewan: $13,772
Manitoba: $9,778
Nova Scotia: $7,310
New Brunswick: $6,242
Nfld & Labrador: $3,926
Prince Edward Island: $1,668
Yukon: $739
Northwest Territories: $383
Tags:

Cannabis Retail

(331)

, cannabis retail sales

(31)

, cannabis sales per capita

(2)

, October 2020 cannabis sales

(1)

, retail sales numbers

(1)

, Statistics Canada

(50)