The Current State of Cannabis 2.0 Products
While many expected a market boom in January due to the introduction of Cannabis 2.0 products (vapour pens, beverages, concentrates and edibles) much of that momentum was decelerated by COVID-related issues. However, there are some interesting trends developing.
Based on retail sales from Alberta, BC, and Ontario, vapour pens are by far the most popular 2.0 category, which will come as no surprise to those familiar with more developed markets in the US. Since Q1 2016, Cannabis 2.0 category sales shares in the US have grown 8.4% quarterly in Colorado and 4.0% quarterly in Washington, with vapour pens accounting for roughly half of Cannabis 2.0 sales. Based on that growth in the US, Cannabis 2.0 products in Canada have plenty of room to grow into, and by using Washington and Colorado as proxies for a developed marketplace, it could be inferred that Cannabis 2.0 products can grow into approximately 40% of sales with vapour pens accounting for at least half of that share.

Cannabis 2.0 sales growth was vastly outpacing Cannabis 1.0 sales growth until April 2020 when the two product groups' growth converged due to COVID-related sales issues, which affected all categories similarly, resulting in nearly identical negative growth rates.
Table 1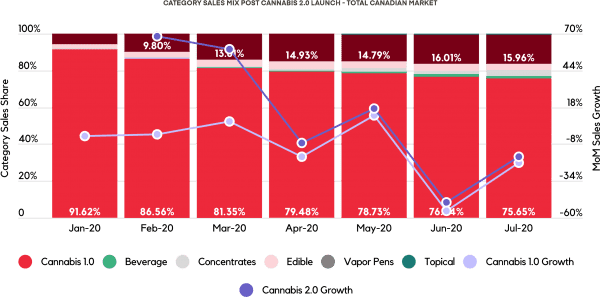 Category Shares by Province
In Alberta, flower's sales share has decreased 15.8% from January 2020 to May 2020 while vapour pens have gained a 15.9% sales share as of May. In BC, flower still has a strong hold on sales. From January to May flower sales decreased just 4.9%, suggesting that Cannabis 1.0 categories such as flower and pre-roll may be slightly slower to relinquish share in that province compared to Alberta and Ontario. Similar to Alberta, BC has seen substantial growth in the vapour pen category, which captured 13.1% of sales in May. In Ontario, flower sales decreased 9.1% from January to May, while vapour pens have captured 14.4% of sales. While vapour pens are likely to drive much of the Cannabis 2.0 sales going forward, edible sales are likely to be the second largest Cannabis 2.0 category in the market, which is consistent with what has happened in developed US markets.
Current Edible Preferences
Chocolate is off to a dominant start in the Canadian market, capturing an average of 65% of edible sales over the past seven months. This is not unlike the initial stages of the US market, which saw chocolates capture 36% in 2015. The main reason for the large discrepancy in chocolates initially in the US when compared to Canada is primarily that the US has many more edible segments available to consumers (11 in the US, and only 6 in Canada). Another interesting finding that may be contributing to the relatively small share of gummies sales in Canada is that there are only a few edible brands that make gummies. For example, in Canada there are 12 brands that make edibles, but only two of them make gummies. To put this in perspective, in the US there are 187 brands that make gummies, so there is definitely opportunity for new brands to enter the space in Canada.
Table 2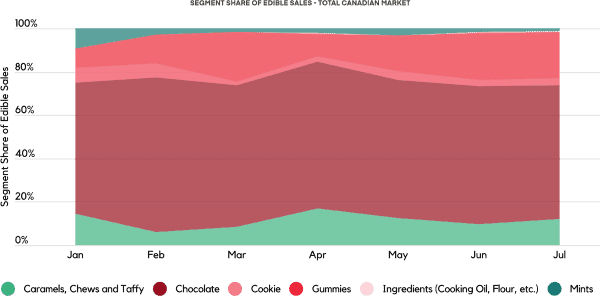 The Canadian cannabis market has experienced significant sales growth over the past year, starting with the sale of only flower, oil, capsules, and pre-rolls and expanding into beverages, concentrates, edibles, topicals, and vapour pens in January 2020. The introduction of these new categories to the market will greatly change the growth trajectory as well as the product landscape of cannabis in Canada. By using developed US markets, such as Colorado and Washington as proxies for the future composition of the Canadian market, one can expect to see rapid sales growth of Cannabis 2.0 products and a more even split of category sales share between Cannabis 1.0 and 2.0 products. Within Cannabis 2.0 categories, it appears likely that vapour pens and edibles will lead the growth surge, and within edibles we expect to see an increased sales share of the gummies segment, which has become a dominant segment in US markets.
Headset is a consumer data analytics platform that provides market intelligence for the cannabis industry. Headset's extensive Market Reports deep-dive into specific categories and aspects of the industry to help businesses better monitor the market and perform exhaustive category analysis. Reports are generated via aggregate, real-time transaction data to get a unique and thorough analysis of what's happening in the cannabis industry as the data becomes available. Visit headset.io for more information.
Tags:

cannabis 2.0

(42)

, Cannabis edibles and extracts

(3)

, cannabis vapour pens

(1)

, Headset

(41)