Atomic Flower: Winnipeg's Bilingual Store
Representing French speakers is important to Joel Lafond. He and co-owners Peter Slupski and Gabriel Fortin-Barbier operate Atomic Flower Cannabis in Winnipeg, Manitoba on three pillars: customer service, craft cannabis, and language services. After two months in business, they can already boast that not only are they the city's only cannabis store that offers service in French and English, but they've also got the cheapest ounce in town, showing that they can walk the walk and talk the talk—in two languages.
Winnipeg's Only Bilingual Cannabis Retailer
Around 3% of Manitobans speak French as their first language, and 58% of them live in Winnipeg. From the get-go, Lafond, Slupski and Fortin-Barbier wanted to create a space where anyone felt comfortable asking questions and learning about cannabis.
"It's engrained in who we are and what we do. I noticed that Manitoba Liquor and Lotteries has provisions for French Language Services in stores and on products, but cannabis does not," says Lafond. "This gave us an ability to distinguish ourselves and find our niche. There are Francophones that smoke too, and if we can cater to them and that language barrier then we want to do that."
Even if Francophones speak English, it's always more comfortable to converse in their mother tongue, especially about an unfamiliar topic. Plus, it makes French customers feel more at ease, the benefit of which Lafond says he sees on the sales floor.
#SupportLocal
Craft cannabis, particularly locally produced, is another driving factor for the trio, and customers aren't complaining. According to Lafond, whenever they stock Manitoba-grown cannabis, it always sells out quickly.
"As much as we enjoy product from big producers, we are finding that the quality is bar none with craft cannabis," he says. "We develop good relationships with them. They are small and we are small, so we like to work together."
Apparently, Manitobans are all about supporting local businesses because customers don't just come in to buy cannabis products, they also like to represent their local cannabis shop. Lafond says that their branded merchandise like hats and hoodies are popular as well, due in part to the #SupportLocal emblazoned across the back and the idea that it implies.
Unfortunately, Lafond says he didn't always feel supported, particularly by the government. Since legalization, they applied for each phase of the cannabis retail roll-out in the province and were conditionally accepted, but ultimately not chosen for a license until applications were opened fully in early 2020.
"The unfortunate thing with the retailers [the government] selected, is that most of that money isn't staying within the province," Lafond explains. "When your own government is giving licenses to out-of-province companies, as a Manitoban and business owner trying to get my foot in the door, it's very frustrating to see the government not supporting their own citizens and province. I can appreciate why they did it, but it's frustrating."
Keeping it Cozy
Before getting started with licensing though, the guys had to get their shop ready.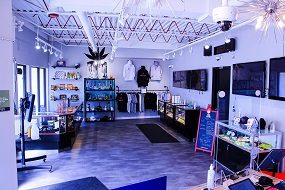 The 1,100 sq. ft. space was transformed from a chiropractor's office complete with 1,200 pounds of lead lining an X-ray room into a cozy shop that, according to customers and even the provincial inspector, feels like walking into Cheers! Furry friends are welcome, too.
The self-financed team wanted to keep overhead costs low, but also wanted an atmosphere that encourages customers to interact with staff. Most people coming in are over 40 and may be trying cannabis for the first time, so that interaction is key to helping customers find the right product.
Knowledgeable staff helps, too. Aside from being French-speakers, the staff at Atomic Cannabis has to be open to learning, and comfortable talking about the plant, but most of all the employees need a passion for helping people. After all, that's what's important, according to Lafond.
Finding the best product mix for its specific demographic was challenging at first for the guys, but they say it's been fun to learn what the canna-curious are curious about.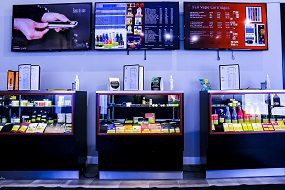 "Drinks and gummies are more popular than we ever expected. At first, we were focused on high-THC cannabis because for us it seemed exciting, but then we realized that wasn't for everyone," he chuckles. "We always ask our regular customers for feedback. We test products but we can't test everything, so it's nice to see that we can depend on customers and they can depend on us."
Overall, Atomic Flower Cannabis has been a net positive for the team and the community, and like many in the industry, they find joy in coming to work every day.
Tags:

Atomic Flower Cannabis

(1)

, Cannabis Retail

(294)

, Francophones

(1)

, Gabriel Fortin-Barbier

(1)

, Manitoba cannabis store

(2)

, Peter Slupski

(1)

, Winnipeg cannabis store

(1)