Concentrates Consumers Want
The market and the offerings for Cannabis 2.0 products are strengthening by the day. New extraction and infusion methods born in the minds of our industry's innovators are leading to a delectable variety of edibles and beverages, but perhaps the most fascinating emerging category is concentrates.
What are cannabis concentrates?
According to Headset, which recently released a report comparing the popularity of concentrates in the US and Canada, cannabis concentrates are "the results of extracting the most desirable parts of the cannabis plant" for a more "concentrated", higher potency product.

"There are many methods of producing Concentrates, ranging from the fairly simple use of pressure and heat to create Rosin, to the highly sophisticated solvent-based extraction methods to create Distillates," Headset writes in its report. "Consistencies also vary by extraction methods and range from a glass-like appearance commonly referred to as Shatter, to a thick but smooth, icing consistency commonly referred to as Budder."
Canada vs the US: Concentrate Market Share
Comparably, our American counterparts love concentrates. In Canada, concentrates have a market share of only 2.9%, compared to the US, where they command 9.5% of all sales. This isn't surprising, since this category has been available since 2018 in some states and has only been sold in Canada since 2019. In 2018, when concentrates first hit the scene in the US, they held just over 11% of the market, but their popularity has since levelled off to where it is now.
Could concentrates in Canada see the same trajectory?
Selection (Or Lack Thereof)
Unfortunately, there may be a major obstacle in Canada's way: lack of selection. States with legal cannabis retail have already overcome this, offering a plethora of different types of products for consumers to choose from, resulting in popular strains only grabbing a small percentage (5%) of the market share. In Canada, the top five strains command 45% of the market share. While this may be a boon for producers, lack of selection could drive consumers into other categories, or worse—to the illicit market.
Most Popular Concentrates
When we break down the category into individual products, Headset data shows that we have different preferences to our neighbours to the south and different products.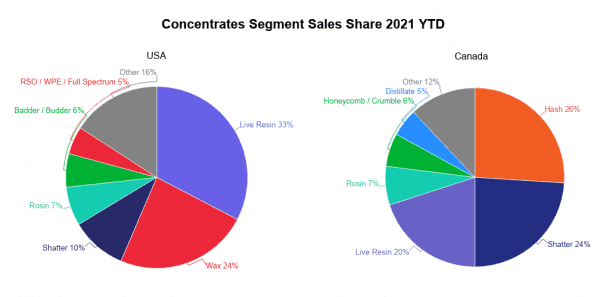 Canadians prefer hash, which makes up 26% of total sales in the category, shatter (24%), and live resin (20%), compared to the US, where live resin is king, bringing in 33% of sales. While the US doesn't have a category for hash, its 'wax' segment has a similar market share at 24%, and on both sides of the border rosin makes up 7% of sales.
Concentrates and vape products present a veritable cash cow if utilized properly. Not only do concentrates promote a more personalized, bespoke cannabis experience for budtenders to engage with customers about, but they also require specific accessories to consume—accessories that generally cost more than a pack of rolling papers.
Tags:

budder

(1)

, cannabis 2.0

(42)

, cannabis concentrates

(5)

, consumer trends

(38)

, hash

(2)

, Headset

(41)

, live resin

(6)

, rosin

(3)

, shatter

(3)