Could Nova be #1 by 2022?
As industry giants High Tide, Fire & Flower and Inner Spirit duke it out for the top spot, a new contender is working its way up the ranks. One of the fastest-growing cannabis companies in Canada, and well on its way to achieving its goal to "disrupt the cannabis retail market", Nova Cannabis has 53 stores to date under its retail banner, with 30 more in the works, most of which should be open by the end of the year.
"Nova has been executing its growth strategy to bring everyday value for real cannabis consumers through the Value Buds banner," said Darren Karasiuk, CEO of Nova, in a press release. "We plan to build one of the largest retail cannabis footprints in Canada, but what we believe sets us apart is our strategic focus on the high-volume value-conscious consumer and our ability to offer a truly better alternative to the illicit market."
Conversion to Value Buds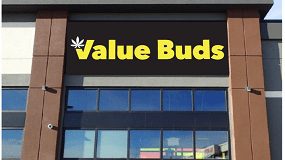 This year, Nova has been busy converting stores from its Nova Cannabis and Deep Discount Cannabis banners to its Value Buds brand in Alberta and has completed 18 so far. According to recently released financial statements, sales increased 120% in these stores after the conversion and the company anticipates these increases to continue as more stores are changed over.
At the moment, Nova boasts 19 stores currently under development in Ontario, along with 11 in Alberta, all scheduled to open by the end of 2021. On top of that, the company says that an additional 30 stores are under negotiation in Ontario.
This aggressive growth strategy is not just about expanding as quickly as possible, though. The company says it's focused on putting stores in places that have long-term viability and using "opportunistic and sensible acquisitions to complement organic growth."
Earlier this year, YSS, which held 19 stores under the YSS and Sweet Tree retail banners, combined with Alcanna Inc. to create the Nova Cannabis brand, which already operated 30 stores, as well as four Deep Discount Buds locations. Many of these stores are scheduled to be re-branded as Value Buds stores by the end of 2021 and into 2022.
Already at 53 stores, with potentially 60 more to come, means Nova Cannabis and Value Buds are catching up quickly and could give the top three a run for their money.
Tags:

Alcanna

(5)

, Darren Karasiuk

(2)

, Deep Discount Cannabis

(1)

, Nova Cannabis

(10)

, Sweet Tree

(2)

, Value Buds

(11)

, value-conscious customers

(1)

, YSS

(2)