Indigenous Stores Make Their Mark
Historically, the relationship between provincial and federal governments and First Nations communities has been complicated, to say the least, and the cannabis industry is no different.
First Nations communities are considered a "nation within a nation", leaving governments with very little control over First Nations land. Clashes in the past have led to mistrust of governments by Indigenous peoples, making some reluctant to participate, and wanting to hold tight to that sovereignty.

Other communities, however, see it as a step towards rebuilding the trust between First Nations and governments, as well as a way to diversify the industry and help their own communities in the process.
Being a Positive Example
One such community is Nipissing First Nation's Reserve, just outside of North Bay, Ontario.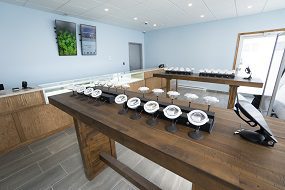 Charlie Avery, the owner of Cheerful Charlie's Cannabis Co., has always been business-oriented, so when cannabis legalization came around, he wanted to pursue it. The Band wasn't too sure at first, but after a public forum, citizens voted yes to bringing cannabis retail into their community.
"Some chiefs have said, 'It's nobody's business but ours', but ours wanted to follow provincial law," says Avery. "The main concern was safety. We didn't want to participate in the grey or black market."
During the government's first lottery for retail licenses for First Nations communities, Avery submitted his application and was accepted. Since then, he and his family have been busy building a successful business and contributing back to their community.
Investing in the Community
Cheerful Charlie's is situated next to a full-service gas station, and all of their staff is local. This is convenient because not only is it a one-stop-shop for locals, it encourages folks from North Bay to take advantage of shopping on the reserve. Since the owners, staff, and customers are all local, it helps the money stay in the area and benefit the community.
Since the owners, staff, and customers are all local, it helps the money stay in the area and benefit the community.
While the Alcohol and Gaming Commission of Ontario (AGCO) and the Ontario Cannabis Store (OCS) have been accommodating, not everyone was so accepting of the collaboration. "Some First Nations were not happy with us," says Avery. "Some view bringing provincial government onto the reserve as a step backwards. Some chiefs feel like they were left out once again."
To Avery though, it's about showing that you don't have to be a huge publicly-traded company to succeed in the cannabis industry. "I think that the average person should have an opportunity. I'm not a billionaire and I'm able to pull this off. This way it's an even playing field."
Working Together
In British Columbia, lawmakers have also been working with communities that want to participate in the provincial model. In September 2020, the Government of British Columbia and Williams Lake First Nation entered into a landmark government-to-government agreement enabling the community to produce cannabis as well as sell it, at least for the next year. Later that year, Cowichan Tribes on Vancouver Island entered into a similar agreement.
Costa Canna, the cannabis retail outlets operated by Cowichan Tribes, currently has two storefronts and a production facility purchased from another craft cannabis grower. The cannabis they produce is bought by BC Liquor Distribution Branch and then sold back to the store.
Making Space for Each Other
Much like Nipissing First Nation's Reserve, the health and safety of the community was their first concern, so Costa Canna has taken a health and wellness-based approach with their interactive centre that helps match customers' ailments to the appropriate products. The Tribes are hoping that the revenue generated can help build homes for the over 600 people waiting for them.
While some First Nations' communities in the province are exercising their right to make their own cannabis laws, such as the Kwaw-Kwaw-Apilt, Costa Canna CEO Phil Floucault told the Cowichan Valley Citizen that they would much rather work within the system so that they were enhancing their community rather than diminishing it.
The provincial government too, promised to continue looking for ways to change the provincial regulatory framework to develop a cannabis industry that is inclusive of Indigenous Nations.
Promoting Diversity
Outside of acting directly as retailers or producers, some First Nations communities choose to collaborate or partner with other companies and groups.
Garden Variety, for instance, is a Manitoba retailer owned by a diverse shareholder group that includes two First Nations—Fisher River Cree Nation in Manitoba and Chippewas of the Thames First Nations in Ontario.
The inspiration for the collaboration was to bring a more diverse perspective to the industry.
The inspiration for the collaboration was to bring a more diverse perspective to the industry as a whole and represent customers cross-culturally. The shareholders handle all of the major decisions for the brand, so all of the organizations involved have their say.
According to Sheilagh Dohie, Regional Manager for Garden Variety, businesses without this kind of diversity are missing out. "I think there is talent, and resources, and people in First Nations communities that haven't necessarily had the same opportunities as the rest of the public. Garden Variety is able to tap into that community to be able to represent our customers more, have a more diverse perspective, and increase our talent overall," she says. "I think businesses do themselves a disservice if they don't represent their customer base in their staff. Cannabis users are a diverse group, and your staff should be, too."
Building Blocks to Trust
While there is still a long way to go to reconciliation for First Nations peoples, Avery is optimistic about the relationship he and other communities are building with governments.
"I think it shows progression," Avery says. "There is a very ugly history with Indigenous communities in Canada, and it shows the ability to move forward, and it's a building block for trust. Some might argue the backbone is only financial, but I would like to think broader than that. If you can go from a few decades ago doing some pretty nasty stuff to supporting each other and participating together in a brand new industry, I think that's a good sign."
Main photo courtesy of Garden Variety
Tags:

Alcohol and Gaming Commission of Ontario

(13)

, Charlie Avery

(1)

, Cheerful Charlie's Cannabis Co.

(1)

, Frist Nations

(1)

, garden Variety

(4)

, Indigenous cannabis stores

(2)

, Ontario Cannabis Store

(66)

, Sheilagh Dohie

(2)