Legacy to Legal Cannabis Store
From the licensed producers, cultivators, and their teams bringing products to market, to the retail stores selling them, legacy folks continue to make the transition from the legacy market into the regulated market.
As we get closer to the third anniversary of cannabis legalization in Canada, it's a good time to step back and celebrate some of the companies, brands, and organizations that are working to ensure the legacy of cannabis retail across Canada continues to hold strong into the regulated market.

THC
THC was born in South Vancouver in early 2016 when opening a business in this industry still meant taking a risk and standing for something you believe in. The retail dispensary has since closed, relocated, and re-opened several times to work with the constantly changing regulations, but in February 2020, THC Canada re-opened as a licensed cannabis retailer with the same owner and a few legacy team members. It took them over a year from the first day of legalization in Canada to operate again compliantly in the legal cannabis market.
Transitioning to the legal market was challenging but worth it.
"Transitioning to the legal market was challenging but worth it," says Colin Bambury, Head of Marketing at THC Canada. "When THC first re-opened in the recreational market, there was barely anything on our shelves that we would be happy smoking personally or selling to our friends. Now we have customers returning and leaving the shop happy with their purchases. The legal market gets better every day."
Today, THC is known for its selection of high-quality, small-batch flower that connoisseur customers love. "Craft and micro-growers are bringing some of the excitement from the pre-legalization days back to the legal market," Bambury says. "The quality of certain craft legal flower is now rivalling that of the legacy market. This is in large part due to legacy market participants slowly transitioning to the legal market and bringing their products, knowledge, and customer bases with them."
ARCannabis
For ARCannabis, the legacy journey began in 2013 after realizing there was a void in the market for people looking for a safe, reliable source for cannabis. The only other opportunity to purchase cannabis at this time was through mail order, which proved to be inconvenient over time as people had to wait days for their deliveries, if they showed up at all. The brand proved to be a success and eventually saw the company open 10 stores across Canada, becoming a trusted source to over 45,000 people.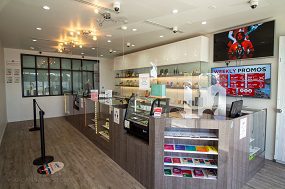 In October of 2018, when cannabis was federally legalized, the company chose to close its doors and began the journey into the legalized cannabis market. It was tough on the owners, but they remained true to their vision of launching their brand in the legal cannabis market.
Being pioneers in the cannabis industry, it was ARCannabis's mission to set the new standard in the new legalized recreational market. The team is focused on bringing the cannabis culture back and offering only trusted, tested brands that they'd buy or use themselves.
Community is what paved the way towards cannabis legalization.
EDEN Empire
EDEN Empire has been around for a while, crafting a quality cannabis retail experience before anyone else knew how, according to its tagline. Before legalization, EDEN was a team of innovators, visionaries, and legalization advocates and the majority of its head office team is still made up of those team members who worked endlessly towards creating today's market. The brand's unique street-style aesthetic and collaboration with local artists works to bring home its message of community, cannabis, and culture. EDEN believes that, "Community is what paved the way towards cannabis legalization, which ultimately led to the recreational market we operate in today."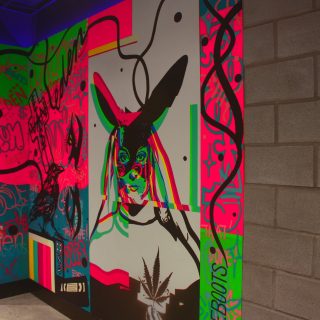 EDEN has always strived to push the industry forward and advocacy has always been an essential part of that, along with creating an award-winning retail brand. "Those who were part of the legacy market, the grassroots movement, and the fight for legalization have made a massive impact on where the industry is today," says Brayden Taekama, Operations Manager for EDEN Empire. "Our team and other teams who pivoted when needed stayed true to their roots through their commitment to see this industry through by acknowledging where it started, where it's presently at, and where it's going. The future of this industry will continue to be an ever-changing one and we're here to contribute our expertise along the way."
Barriers to Entry
Legacy cannabis retailers in BC have a long-standing history in the province, but there are now several cannabis retailers who have successfully transitioned from legacy to legal operators. What does this transition look like for them? Can we make it easier?
Despite the success of these brands, it's important to recognize the many barriers to entry for legacy folks to even become a part of the licensed market. According to the Association of Canadian Cannabis Retailers (ACCRES), the best way to "eliminate the illicit market" is to transition these legacy actors into the regulated market. Ultimately, regulators need to acknowledge that cannabis is not a green field opportunity, but rather, a transitional one.
"The legalization of cannabis did not create a new sector, it acknowledged an existing market with existing customers," says Jaclynn Pehota, Executive Director at ACCRES. "Fundamentally, we do not believe criminalizing our own future customers is smart, nor fair; we are the new alternative, after all."
At the moment, there isn't a solid path to "go legit" for legacy actors. On top of the usual struggles of building out and licensing a cannabis store, having a criminal record, related or unrelated to cannabis, can make it a non-starter.
From naming conventions to product categories to growing techniques, the legacy market has a lot to offer to the legal market and has already provided great expertise to the industry. Pehota argues that these legacy actors' decades of experience and innovative methods could mean "literally hundreds of millions of dollars of economic development and tax revenue."
"What can legacy actors offer the legal market?" she says, "I would counter with the question, 'What does the legal space have to offer the legacy actor?'"
Tags:

ARCannabis

(1)

, Canada Cannabis

(130)

, Cannabis Retail

(360)

, Eden Empire

(3)

, legacy cannabis market

(1)

, regulated cannabis market

(1)

, THC Canada

(2)