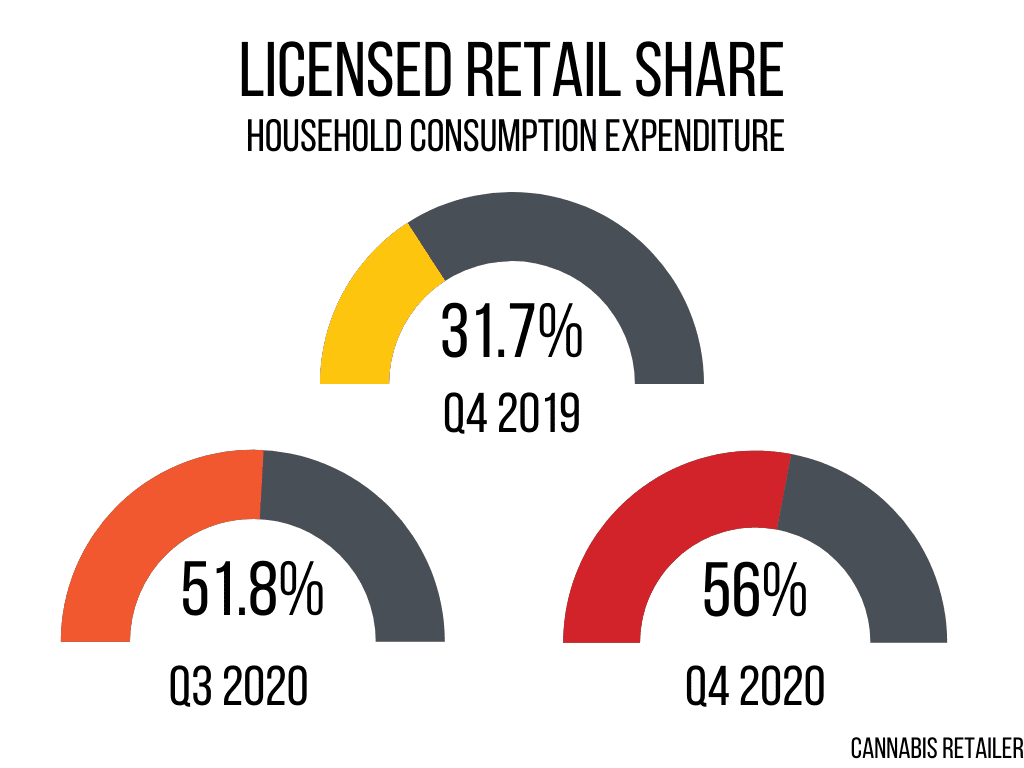 Legacy Users Switching to Legal?
With each passing month, more Canadians are participating in the legal cannabis industry rather than its unlicensed counterpart. While the number of Canadians using cannabis continues to increase as new products hit the market and as the industry works tirelessly to break the stigma, Statistics Canada data shows that those purchasing from unlicensed retailers are starting to switch over.
Spending on Licensed Cannabis Up
Recently released household expenditure data for the fourth quarter of 2020 shows that Canadian households spent $918 million at licensed cannabis retailers, which accounts for 56% of the country's total spending on non-medical cannabis, while $714 million was spent on unlicensed cannabis.
It wasn't until the third quarter of 2020 that licensed retailers had even managed to overcome the illicit market. Last quarter, households spent $821 million in the licensed sector, bumping its share up to 51.8%, not including medical cannabis. In three short months, however, household expenditure on legal cannabis increased nearly 12% while spending on unlicensed cannabis dropped 6.7%, showing us that some users are, indeed, making the switch.
Switching Over Stubborn Users
Old school cannabis users can be stubborn, and even though spending in the legal sector has increased 101% since the end of 2019, spending on unlicensed cannabis only dropped 19.8% during that year. Licensed retailers have still made quite a dent in the illicit market, however, since only 31.7% of total household spending on cannabis was done in the legal market in Q4 2019.
According to recent consumer trend reports, the key to winning over legacy users is to see cannabis through their eyes. Since they've been around the block a few times when it comes to cannabis, they have certain expectations when it comes to quantity, quality, and price, all of which contribute to their perception of value in that product. By focusing on this consumer segment and meeting them where they are, the industry could see even more cross-over from the legacy market.
Total Household Final Consumption Expenditure on Non-Medical Cannabis
(x1,000,000)
Q4 2020
Total: 1632
Licensed: 918
Unlicensed: 714
Q3 2020
Total: 1583
Licensed: 821
Unlicensed: 762
Q4 2019
Total: 1436
Licensed: 456
Unlicensed: 890
Tags:

Cannabis Retail

(294)

, cannabis trends

(26)

, legacy cannabis users

(1)

, legal vs. illicit cannabis market

(1)

, licensed cannabis retailers

(4)