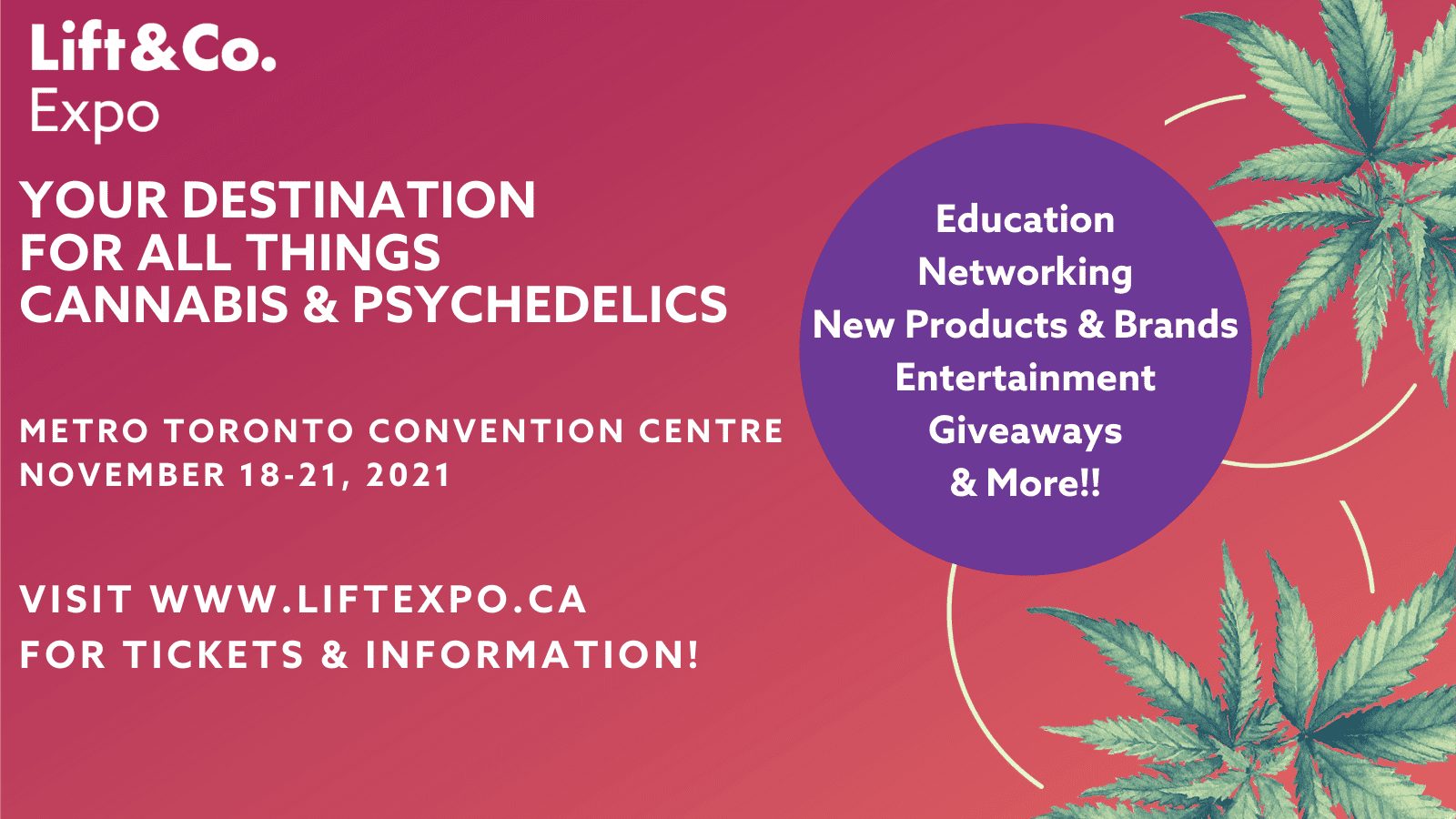 Lift & Co. Expo Returns in November
Lift & Co. Expo will make an exciting return to Toronto this November 18-21, 2021 at the Toronto Metro Convention Centre. We are thrilled to announce Cannabis Retailer is partnering with Lift as a media sponsor. Joyce Hayne, Publisher of Cannabis Retailer, says, "We are delighted to see the Conference and Expo finally returning and to have our own booth at the show as well, so we can connect with our clients and readers. We welcome everyone to drop by and see us at Booth 806."
If you are involved in the cannabis or psychedelics industries, this event is a must-attend. From new and expanding companies, to medical professionals, to curious consumers and patients, this innovative conference and trade show has something for everyone.
Lift & Co. features exclusive networking opportunities that gather c-suite executives, brands, influencers, media, and businesses from across the industry. This is the number one event for creating new connections, exploring new trends, and growing your network in the cannabis and psychedelic industries.
Each day is carefully planned to reach all aspects of the cannabis and psychedelics industries. Starting with an introduction day on November 18, the Lift Cannabis Business Conference highlights top cannabis business leaders, innovators, and regulators who will share their insights on key issues facing the sector today. Topics of discussion will include Industry Economics, Regulations & Legislation, Marketing, Retail, Risk Management, Testing, Financials, and Fundraising.
Two events are featured on November 19: Lift Industry Day and the brand-new Lift Psychedelics Business Summit. Lift Industry Day is an industry-only trade show highlighting presentations from cannabis professionals and providing an opportunity to see over 200 industry suppliers. Visit Cannabis Retailer at booth 806. Offering a platform for meaningful conversations that build relationships, this event is a catalyst for opportunities and collaborations. Speaker topics at Lift Industry Day include Business Growth, Product Innovation, Marketing and Merchandising, Government Relations, Public Relations and Media, Recruiting Talent, and Growing Gangbusters.
Premiering November 19, the Lift Psychedelics Business Summit is brand new to the Lift & Co. Expo. Building on the success of the psychedelic content launch at the Vancouver 2020 Lift & Co. Expo, this full-day summit will showcase the most current research and business intelligence in today's psychedelics industry. Programming will focus on the development of psychedelic research, with new and proposed therapies for creating unimaged psychedelic treatments and opportunities for patients, medical professionals, and businesses. Topics to be explored at the new Lift Psychedelics Business Summit include Industry Analyses, Patient Breakthroughs, Business Strategies, Regulators' Perspectives, Public Health and Safety, and Psychedelics Trailblazers.
November 20 and 21 will be dedicated to the consumers and patients of the cannabis and psychedelics industries. Attendees are invited to explore, learn, and connect with over 200 exhibitors from Canada and around the world. These two days will provide the perfect escape to learn about products available for recreational and medical use. Businesses, brands, and suppliers can benefit from consumer days, as well, by discovering the next big trends in the cannabis and psychedelics industries.
So don't miss out on the biggest Canadian cannabis and psychedelics conference and tradeshow of the year. Get your tickets now for Lift & Co. Expo 2021 at https://liftexpo.ca/tickets/.
Already have tickets? Learn more about the Lift & Co. Expo 2021 agenda at https://liftexpo.ca/agenda-2021/.
Tags:

cannabis conference

(3)

, cannabis tradeshow

(1)

, Lift & Co Expo

(2)

, psychedlics conference

(1)