Near the Lake of Many Colours sits Kalamalka Cannabis, a homegrown, family-owned business in Vernon, BC. The store's namesake is the beautiful Kalamalka Lake mere minutes away, however, to co-owner Mike Dagostini, his shop also symbolized an opportunity to come home and do some good.
"I was raised in Vernon and I love this community," Dagostini says. "When legalization occurred, I saw an opportunity to work in an amazing industry, make a difference in people's lives, and move back to Vernon."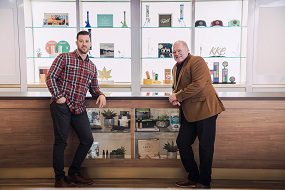 Dagostini enlisted the help of his father, Carlo, who had been in the liquor business for around 30 years, first with a local pub and then expanding to a liquor store later. While the pub was successful, the clientele changed over time. Instead of working class men coming in after their shift for happy hour, the neighbourhood shifted into a more residential area. That's when the pair decided to change course and turn the old pub into a cannabis store.
The Road to Opening
Already having a building, the first step to opening their store was licensing. According to Dagostini, the entire process was very expensive and time-consuming. From applying to approval, getting their license took around 18 months and the fees continued to pile up.
To add to the stress, Dagostini says that because of how the process works, everything felt like it was being done at the last minute. Everything from posting job openings to setting up a bank account was a headache.
"It was a complete nightmare," he says. "We couldn't even bank in our own town."
Separate from the bureaucracy, The City of Vernon has no bylaws regulating cannabis stores, so the market is already saturated with 22 stores for around 50,000 people. Additionally, BC has a public and private model for cannabis retail, similar to most provinces, where all cannabis retailers must purchase their inventory from a provincial body, making it difficult to stand out from the already crowded market.
Blood, Sweat, and Tears
One thing Dagostini could control, however, was construction and as soon as they received their license he got to work.
This process went much more smoothly. Due to his project management background, Dagostini and an old friend, who was a contractor, knew exactly what to do to turn Dagostini's vision into a reality. "It decreased the timeline because I was always on-site," he says. "It was nice to be there to make decisions, and it was important to me to have sweat equity in it."
It wasn't without its hiccups, however. While cutting a hole in one of the ceiling's tin coffers for a pot light, it got away on him and embedded into his ankle, resulting in 10 stitches. He laughs about the incident now. "Neither my wife nor my contractors were very impressed with me, but now I can say I've put my blood, sweat, and tears into this place."
Finally Finished
Kalamalka Cannabis opened in September, and Dagostini says he's having a blast so far.
With the help of Urban Designs, a design firm from the Lower Mainland, the vision came to life and now guests are welcomed into a warm, modern store. Back-lit, modern cabinets, accents of exposed brick, and shining golden coffers set into a matte black ceiling give the place a classy boutique vibe that all customers can feel at home in.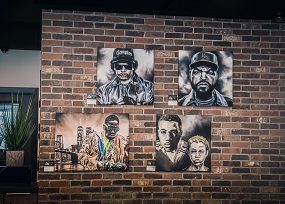 Paintings from local artists line the walls, changing every couple of months, supporting the local culture as well as increasing the store's shopability. Dagostini hoped to create a place that is more friendly to browsing.
"With cannabis, I find a lot of people need to be guided," he notes. "That's why I wanted a more browsing-friendly dynamic. We've got tablets, budtenders, and a menu so that we can accommodate different styles of shoppers."
It's one of the ways that Kalamalka Cannabis stands out from the crowd, along with having one of the most extensive selections of products in town, with competitive pricing and a wide variety of accessories.
He sees a range of clientele in the store, but Dagostini says that his favourites are the seniors who come in looking for oils and topicals, because that's why he got into the business in the first place–to help.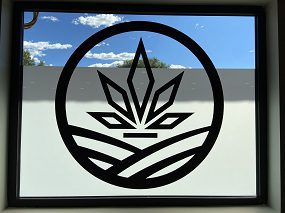 Even still, marketing and advertising remain an issue for retailers. With current regulations, Dagostini says it can be difficult to find ways to spread the word about his store without breaking any rules, but in the meantime, he's doing his best to support his business as well as his community.
"We are a community-minded group that wants to break down stigmas around the consumption of cannabis," he says. "We believe that we can make a positive impact on our community and the lives of the individuals that reside in it."
Tags:

BC cannabis store

(11)

, Kalamalka Cannabis

(1)

, Lake of Many Colours

(1)

, Mike and Carlo Dagostini

(1)

, Vernon cannabis store

(1)