The State of Flower's Market Share
If you've been paying attention, you may have noticed that good ol' cannabis bud, or the dried flower category, has gotten less popular lately, and that's because it has. According to data from Headset, dried flower commanded 78.4% of the market share in Canada in March 2019, but by June 2021 its market share had fallen to 49.3%—that's nearly one-third of its market share taken over by other categories.
While it still remains the largest product category in sales in Canada and the US, who has been ditching flower for new products and who has been hanging on?
What Happened?
At the onset of legalization, the road was a little bumpy. Not only were there product shortages and consumer complaints about price and quality, but there weren't very many products to choose from in the first place.
According to Headset, "Historically in all new markets, Flower tends to start at high market share and then drop because it is the least processed product type and therefore easiest to get to market quickly, and this remained true within the Canadian cannabis market. In January of 2020, Cannabis 2.0 products started being sold and the introduction of these new categories took away from Flower's market share."
As Cannabis 2.0 products trickled onto shelves, flower saw a 9% drop in its market share, going from 69% down to 60%. Women's affinity for flower decreased as well, as they began to explore healthier, more discreet options like edibles, capsules, and beverages.
Flower Lovers
If you're looking for the perfect conditions to sell cannabis flower, set up shop in Ontario and sell Indica strains. Why? In Ontario, flower sales are the highest in the country, making up 56% of all sales, and nationwide, Indica varieties contribute to 43.6% of sales.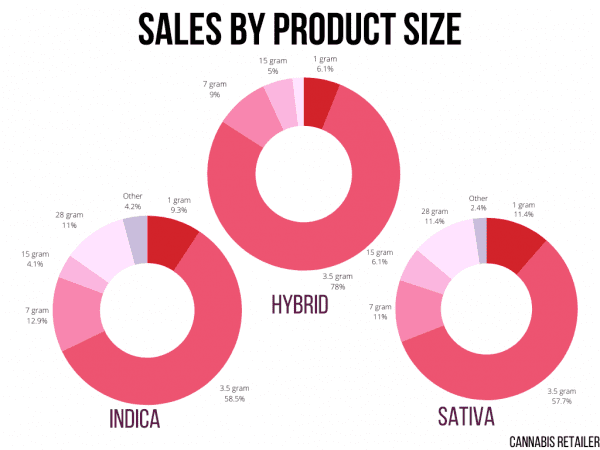 Obviously, it's not quite as simple as that, but if you did have a store like this, your average customer would be a male baby boomer, since they appear to spend the most on flower compared to their younger counterparts. You might see the odd woman, or young man, but generally, Millennial males and older typically spend their money on bud—and chances are it's a hybrid variety, rather than just Sativa or Indica.
There is something unique about the hybrid category, though, both here in Canada and in the US. In Canada, 78% of the hybrid segment is sold in 3.5-gram packages, whereas other flower segments only have an average of 58% of sales coming from the same package size. Headset revealed that hybrid varieties actually had a much lower average item price ($37.06) compared to Sativa and Indica strains ($44). In fact, prices for 3.5-gram formats of Sativa flower had increased 35% since 2019, but the average hybrid strain had only increased 18% in price.
Flower vs. Pre-Rolls
Pre-rolls are the most popular with female Millennial shoppers, with 28.5% of their wallet share going to pre-rolled flower, almost as much as they spend on unprocessed flower (39.6%). The men in that age group have less of a preference for pre-rolls (22.6%) but still enjoy the flower experience, spending 43.2% of their wallet share on it.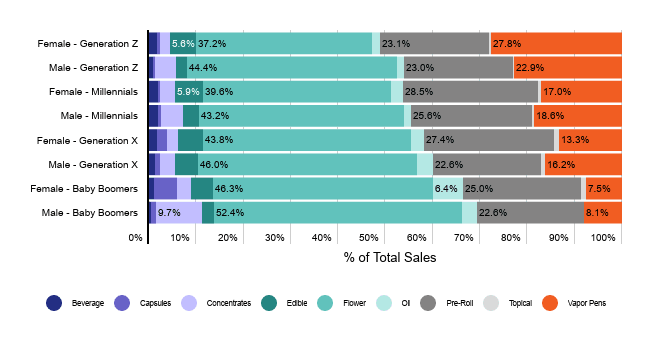 Baby Boomers, both male and female, continue to be the biggest fans of flower, whether it's pre-rolled or not. Boomer males and females are by far the biggest spenders, spending 52.4% and 46.3% of their wallet share on flower, respectively. Males in this age group spend another 22.6% of their wallet share on pre-rolls, and women spend another 25% of their wallet, meaning that Boomer Males spend an average of 75% of their wallet share on flower in some form.
Tags:

baby boomers

(2)

, baby boomers and cannabis

(4)

, Canada Cannabis

(117)

, cannabis 2.0

(42)

, cannabis edibles

(33)

, cannabis flower

(3)

, Cannabis Industry

(138)

, Cannabis Marketing

(37)

, Cannabis Retail

(294)

, cannabis sales trends

(44)

, cannabis trends

(26)

, consumer trends

(38)

, Gen X

(3)

, gen x and cannabis

(1)

, Gen Z

(4)

, gen z and cannabis

(1)

, Headset

(36)

, millennials

(4)

, millennials and cannabis

(1)

, pre-rolls

(5)

, recreational cannabis

(43)

, retail cannabis

(41)