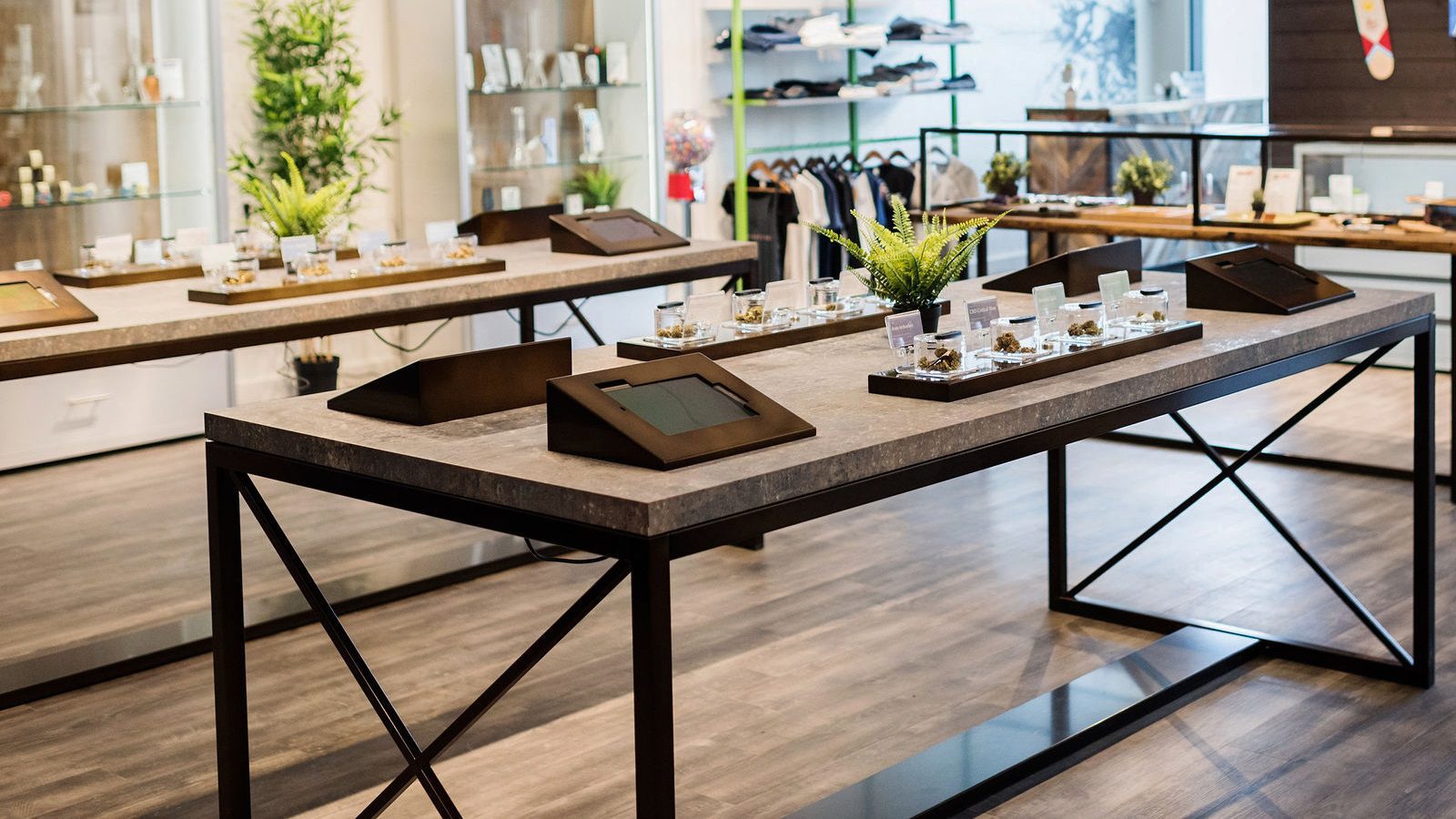 Canadian Cannabis Consumer Insights
It's not a secret that Canadians enjoy their cannabis-related products. The explosive and sustained month-over-month and year-over-year growth that the industry has experienced in provinces and territories across the country since legalization is testament to the fact.
And current data also bears out the country's love of the plant, revealing that one in five (19%) Canadians have purchased cannabis related products within the last three months.
The research which was commissioned by Cannabis Retailer and conducted by Caddle surveyed over 9,000 Canadians from coast-to-coast-to-coast in September 2022. It also reveals the purchasing habits of the average Canadian cannabis consumer and the differentiators that influence their decisions.
Purchasing Habits Revealed
With respect to where Canadian consumers find and purchase their cannabis and related products, responses varied, including private retail stores (38.4%), government retail stores (35.2%), private licensed retailer websites (18%), licensed producer websites (15.6%), and government websites (14.2%). It's a range of points of purchase that reflect the Canadian consumers' evolving preferences as well as enhanced offerings from cannabis retailers, producers and government-run stores across the country in response to increased demand for choice.
Where do you Purchase Cannabis Related Products?
Sustained Illicit Market
However, these responses leave a glaring 8.2% of respondents who indicated that they purchase their cannabis-related products from another source and most of that is probably through the illegal market. With this number of Canadian cannabis consumers purchasing illicit product, it seems clear that government needs to hasten its review of Canada's Cannabis Act in order to meet its mandate of reducing and eliminating the presence of the illegal cannabis market in the country.
Factors Influencing Purchase
When it comes to the factors that influence which product Canadian consumers purchase at cannabis stores, responses were just as varied. Nearly half (49.4%) of all respondents cited price as the main determinant in their decision-making, followed closely by the effectiveness of the product (43%).
What are the Top 3 Factors Influencing Your Product Choice in a Cannabis Store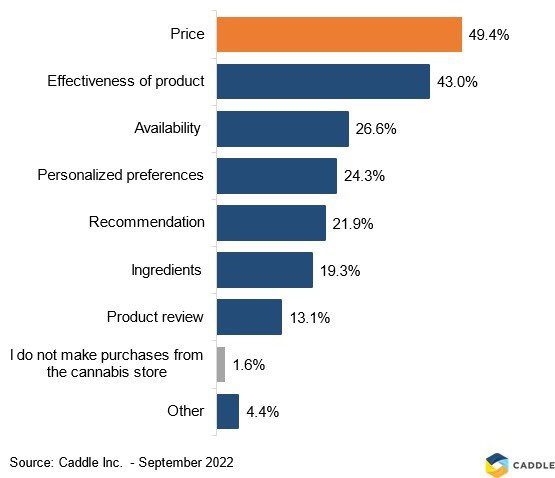 Which Store to Shop With?
In addition, Caddle's data also identifies the three factors that are most influential in directing decisions made by Canadian consumers concerning where they purchase their cannabis. Interestingly, price (49.1%), product quality (47%), and the availability of product (29.7%) remained consistent with the top product purchasing influencers. Product assortment, ingredients, and the shopping experience were also important.
What 3 Factors Determine Where Your Purchase Cannabis?
A Growing Industry
The data also reveals signs that the Canadian cannabis industry is still growing, consistently welcoming new first-time purchasers, and that it will likely continue to do so for some time. When asked about the trajectory of their cannabis consumption over the course of the past 12 months, an overwhelming majority of Canadians stated that their consumption levels have increased (39.4%) or remained the same (44.2%) as they had been prior, with just 16.3% saying that their consumption had decreased during that period.
An Enhanced Experience
What's clear when analyzing these responses is the fact that without the ability to market or advertise their offering, cannabis retailers and producers are left to the oldest promotional device known to the retail industry—old-fashioned word-of-mouth—lending greater significance and meaning to the level of service and product offered. And so, looking ahead, it will be interesting to see what retailers across the country do in order to create a differentiated and more personalized experience for their customers within an already fiercely competitive market.
Tags:

Caddle

(5)

, cannabis consumer insights

(5)

, cannabis purchasing survey

(1)

, Cannabis Retail

(295)

, Cannabis Sales

(39)

, cannabis trends

(26)