Cannabis Sales Down 2% in January
Canadian retail cannabis sales declined 2.1% in January, according to Statistics Canada. Total sales for the month were $347.2 million, down from $354.8 million in December (revised downward from a previously reported $382.4 million). But while month-to-month sales dipped, year-over-year sales increased 24% compared to January, 2021.
The data shows monthly declines in every province except two. In Ontario, Canada's largest cannabis market, sales were up 8% from December and 57% from a year ago, reflecting an increased number of stores in the province. Saskatchewan saw a 1.5% bump over December, growing to $14.5 million.

The remaining provinces saw declines, with January sales as follows:
Alberta: $61.5 million (-6.5%)
Quebec: $47.9 million (-13.8%)
British Columbia: $50 million (-4.5%)
Manitoba: $13.1 million (-6.4%)
Nova Scotia: $7.8 million (-10%)
New Brunswick: $6.4 million (-8.7%)
Newfoundland and Labrador: $5.6 million (-7.2%)
In Prince Edward Island, StatsCan reported January retail sales of $1.8 million, but didn't record a comparative sales figure for December. Similarly, the bureau reported Yukon sales of $808,000 in January with no number for December. No sales figures were available for the Northwest Territories or Nunavut.
Retail sales typically decline in January due to a boost in holiday-related spending during December.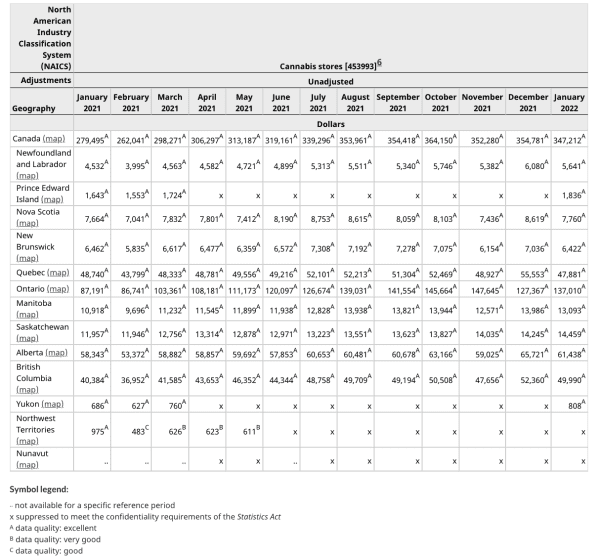 Tags:

Canadian Cannabis

(87)

, Cannabis Sales

(55)

, January sales

(1)

, retail cannabis sales

(2)

, Statistics Canada

(50)