Creating Competitive Compensation
The retail industry has been under pressure for many years to pay living wages and offer better benefits to employees. This is no different in the cannabis industry, where retail jobs often experience low wages, lack of benefits, no sick time, inconsistent scheduling and shifts, and few full-time opportunities.
As a result, many people are choosing to leave the retail sector. Statistics Canada reports that job vacancies in the retail sector have reached all-time highs. This is not only happening in Canada but across North America. In April 2021, 649,000 retail employees in the United States resigned, making it the sector's largest one-month exodus in over 20 years.
Today, retailers are having trouble attracting workers with the rates of pay they're offering. Existing retail employees are often disgruntled, and this affects store culture. In turn, this ultimately affects customer service quality and can lead to a poor consumer experience. One byproduct of the low wages and benefits offered in the retail industry is that they create opportunities for unions to emerge and promise better working conditions.
Low wages and benefits offered in the retail industry create opportunities for unions.
We've seen this in the cannabis sector already. For example, ​a Canna Cabana location in Hamilton, Ontario ratified a collective agreement in December 2020. The issues cited that led to unionization included wages and benefits, better scheduling, and seniority provisions. Some of the changes that were achieved through the collective bargaining process included a $1/hour increase following the successful completion of the probationary period, and an additional $0.50 raise after two years of service, an enhanced scheduling policy, signing bonuses, paid sick days, paid bereavement leave, and paid jury duty.
Good Vibes at Highland Cannabis
While some cannabis retailers have deficiencies in their compensation programs, others are demonstrating leadership in this area. Owen Allerton is the CEO of Highland Cannabis in Kitchener, ON. He and his wife own and operate their 3,000 sq. ft. store and employ 25 retail staff. He shared that they have a large staff complement that allows them to deploy a service-heavy, personal-shopper model in their stores. Having a large team comes with some challenges, but Allerton has implemented a number of practices that have been successful for their compensation structure and overall employee morale.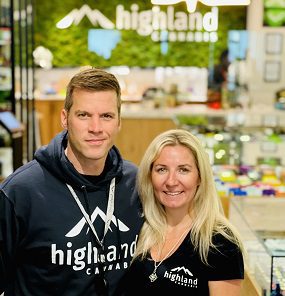 For example, Allerton explained that they have implemented a career-laddering approach, in which employees can hold titles beyond Budtender like Merchandising Lead, Team Lead, and Assistant Manager. This gives employees room to grow within the retail operation and allows them to achieve raises to their base wage along the way. This creates a sense of equity within the team as individuals are rewarded for taking on additional responsibilities.
Beyond the base wage, Allerton offers his employees a health benefits plan, and the premiums are fully paid by the employer. He shared that his employees were excited about this benefit but participation in the plan has been low as not all employees are taking advantage of the benefit.
They also offer a monthly discretionary bonus that is based on store performance and individual contributions. Management does a monthly review on each employee to decide if their performance, work ethic, and attitude are reflective of receiving the bonus. This is calculated as a multiplier on their base wage—e.g., an extra $1/hour for the past month based on their actual hours worked—and then paid as a lump sum bonus. The multiplier can range from $0.50 to $2 depending on the individual and their contribution that month. As it's a discretionary bonus, an employee could also not be eligible that month if the person wasn't going above and beyond.
The approach to scheduling at Highland Cannabis is very employee-centric. Beyond basic time-off requests, management takes time to understand what their employees' scheduling preferences are, what personal commitments they may have, and which team members thrive together. They do their best to set a schedule that is accommodating while still being functional from an operational perspective.
Lastly, Allerton explained that they incorporate their team into decision-making. This includes interviewing new hires and other activities like ordering inventory.
Many want to leave their current cannabis retail employer for the environment at Highland Cannabis.
These practices take time and a commitment to knowing your team. Allerton shared that these standards create a good vibe and culture in their store. They have happy employees, and many candidates are knocking at their door who want to leave their current cannabis retail employer for the environment at Highland Cannabis.
Assessing Your Compensation Program
Both the Canna Cabana and Highland Cannabis examples are quite illustrative of what changes can be made to a compensation program to make it more competitive and appealing to employees.
If you're looking at evaluating your compensation program, here are some key elements to start with.
Base wage – While some positions may start at minimum wage, it's worth assessing what other cannabis retailers in your geographic region are paying. You may find that others are offering a higher starting wage, which may make it difficult to attract and retain talent.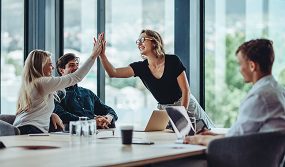 Raises – Employees expect some form of compensation increase over time. It's worthwhile to create some structure around this that can be applied consistently. It can be based on time with the company, taking on new responsibilities, or both. If you add additional job titles or positions that employees can be promoted into, like at Highland Cannabis, then you also have the benefit of career progression, which can assist with employee engagement and retention.
Health benefits – Health benefits are often lacking in retail. The costs can be significant, and many retailers aren't interested in taking it on. It can also be difficult to qualify for group coverage if you have a small number of staff members. However, it is a benefit that can make you stand out as an employer. Another consideration is offering a Health Spending Account in which you allocate a lump sum in an amount of your choosing to each employee that can be used for medical expense reimbursement. This can be a flexible alternative to a traditional group health plan.
Scheduling – Scheduling that is not considerate of your employees or is inconsistent can quickly lead to employee disappointment. It's worth taking some extra time with your schedule to try to make it work for your employees (within reason) in addition to it working functionally for the store. Employees have lives and families, and if their time is respected, they will be much more likely to reciprocate a respectful attitude when they are at work.
Your compensation program is a very important part of the relationship you have with your employees. Ensuring that it is competitive and appealing to your staff will help with hiring, engagement, and retention. In the cannabis sector, we have seen examples of poor compensation structures leading to unionization. On the other hand, there are examples of thoughtful compensation programs creating strong employee culture and morale. This is especially important for cannabis retailers at a time when participation in retail employment is in decline across North America.
Tags:

Alison McMahon

(5)

, Cannabis Retail

(331)

, cannabis unions

(2)

, Highland Cannabis

(1)

, Owen Allerton

(1)

, retail compensation

(1)

, retail recruiting

(1)

, retaining staff

(2)