Effective Inventory Management Practices
Running a successful retail cannabis business is dependent on a number of different variables. Securing the right location, ensuring a prompt and knowledgeable staff, and creating a great in-store experience are all critical in supporting a viable operation, positioning it for potential growth.
However, as important as it is for merchants to fill all of these criteria, explains Sheilagh Dohie, Regional Manager at Winnipeg, Manitoba-based cannabis retailer Garden Variety, without effective inventory management practices, all other efforts are likely for nought.

"Whether you're selling groceries or cannabis, your people and the talent within your organization are the most important attributes," she says. "But maintaining great inventory practices is just about as big of a priority. Simply put, it allows cannabis retailers to ensure that the right product is available in their stores at the right time for the consumer."
Strong Backend Controls
Dohie goes on to explain that, although the concept of effective inventory management and its benefits is a rudimentary one, it's one that is not easily achieved, requiring a number of different inputs and formulas to properly inform buying decisions and meet customer demand. The aim, she says, is to stock the right amount of inventory and an optimized breadth of assortment, adding that a confluence of data analysis and keeping a keen ear to the ground by listening closely to customers and staff goes a long way toward knowing which products to bring into the store at what quantities. However, she also suggests that developing and adhering to a strong set of standard operating procedures is a must.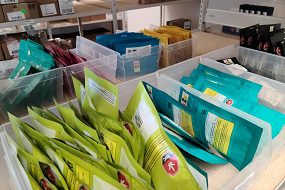 "Inventory is a store's biggest expenditure," she says. "And the backbone to effective inventory management and the protection of that investment is the maintenance of solid standard operating procedures (SOPs) around the ways inventory is counted, how it's controlled, and how it moves through your business. You can look at sales data, forecast, purchase, and change your pricing and displays, but if you don't have strong controls in place and rigid discipline on the backend of the operation, you'll likely never be able to properly manage inventory."
A store's inventory can prove to be a massive differentiator.
Leveraging Digital Channels
They are sentiments that are echoed by Jacob Stevens, Founder of Purple Moose Cannabis in Toronto, Ontario, who believes that strong management of a store's inventory can prove to be a massive differentiator. He says that speaking regularly with licensed producers to better understand their offerings and to discover new skus and strains that are being introduced is also beneficial. And, he adds, today's digital channels are also yielding important insights.
"Social media and online message boards are an amazing source of customer reviews," he notes. "You can read the opinions and comments of hundreds of thousands of consumers and uncover some of the things they like or don't like about certain products, providing store operators with a unique view into trends occurring within the market."
Constant Attention
With respect to the amount of time one should spend checking on their inventory, Stevens says that it needs to be a constant consideration, describing it as a living, breathing component of the business. He says that checking inventory every day, even multiple times a day, allows merchants to truly understand how the different SKUs are selling, helping to easily identify high-performing and under-performing product. However, when it comes to the ways to handle those differing SKUs, there are a number of strategies that merchants can employ.
"It's impossible to know exactly how a product is going to perform until you make it available to your customers," he says. "When it comes to buying our top-selling SKUs, we take a bit of a hoarder's approach, buying a whole bunch of it to make sure that we don't run out. We know it's going to sell, so we need to keep it in our inventory. On the other hand, when you've got a slow-moving SKU, we find that a 20% discount is the tipping point and will help a store clear that inventory out quickly. To avoid this scenario, when buying newly introduced product, merchants will want to buy just a little bit of it to see how it performs. Based on its performance, you can always buy more of it during the following purchasing cycle rather than have an excess of it that you can't sell."
Strategic Approaches
Garden Variety's Dohie agrees that with high-performing SKUs, retailers will benefit from "over-forecasting" to ensure that their top products are always on hand. And, in doing so, she suggests that merchants shouldn't be afraid to push, or take calculated gambles on, their top-performing products. However, the tactics that she leverages in order to move underselling SKUs are a little more refined and don't necessarily need to include discounts.
Consider moving slow-moving SKUs to different positions.
"Depending on your store design, if it allows for merchandise displays, you can consider moving slow-moving SKUs to different positions around your store," she suggests. "You can move these items around on your menu, too, bringing attention to them and making them items of interest. You can also get your staff involved, incentivizing them with contests to get them behind moving certain items of inventory. There are times when discounting price might be the most viable option, however, discounts should not be a knee-jerk reaction. I'd always advise exploring other options first."
Creating Opportunities
Both Stevens and Dohie agree that it's also a great idea to take advantage of holidays, special dates, and events throughout the year to help manage inventory and move product through the business as seamlessly and profitably as possible. In fact, according to Dohie, cannabis retailers should be as strategic as possible, capitalizing on any opportunity that might present itself.
"We're always looking for reasons and opportunities to move product, whether it's high-performing or low-performing SKUs. Traditional holidays, as well as cannabis holidays, are great periods in the Canadian calendar to leverage. In the end, we're always exploring things that we can create events around and highlight certain products as part of those events. Moving inventory and understanding how it most effectively moves through your business is critical. So, how closely retailers pay attention to their controls, the inputs that can inform their buying decisions, and the ways they move their inventory can be the difference between success and failure."
Top photo courtesy of Garden Variety
Tags:

backend controls

(1)

, Cannabis Industry

(168)

, cannabis inventory management

(1)

, Cannabis Retail

(360)

, garden Variety

(4)

, Jacob Stevens

(2)

, Purple Moose Cannabis

(1)