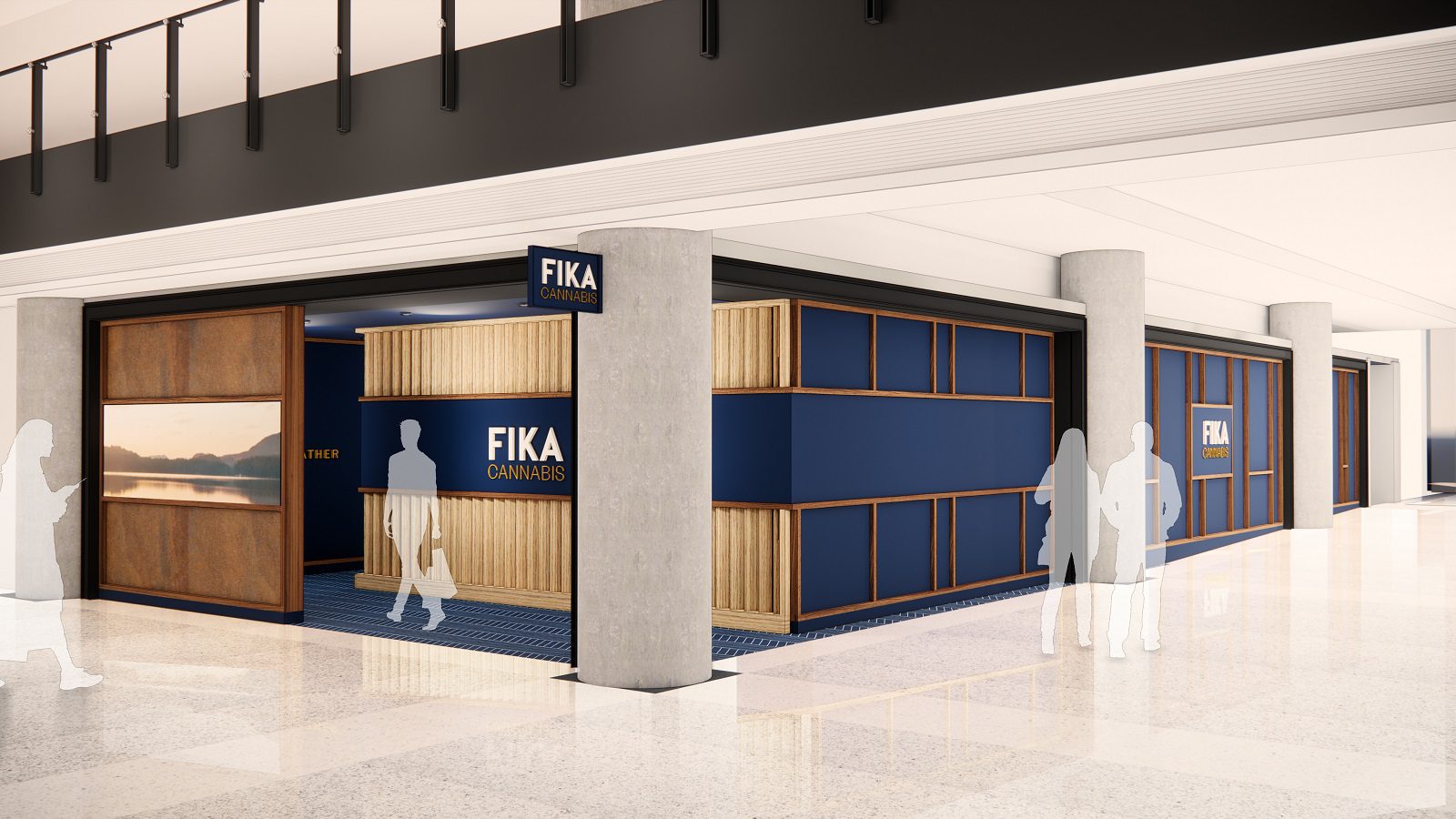 FIKA Opens Flagship at Union Station
There aren't too many things more important than location when it comes to the success of any retailer. And when assessing potential spots to set up shop in the city of Toronto, there are few that could be considered as attractive as a storefront at Union Station.
It's a fact that isn't lost on Christopher Kane, Chief Operating Officer at FIKA – the cannabis retailer that is set to become the first to open a store at the iconic Canadian station.
"This is an unprecedented opportunity for cannabis retail and for the entire cannabis industry," he asserts. "FIKA will be the first cannabis store in a major transportation hub anywhere in the world. I can't overstate how proud we are of this milestone."
Incredible Exposure
FIKA, which describes itself as a 'lifestyle brand redefining cannabis retail', operates 18 locations across Ontario, including a store in the heart of Toronto's Distillery District. The addition of its Union Station storefront, which is set to open at the beginning of September, will only enhance its status and reputation within the region, operating within the country's busiest building which sees 100 million annual visitors pass through its historic esplanade and retail corridors.
Kane goes on to explain that he hopes FIKA's inclusion as the first and, until further notice, only cannabis retailer included within the select group of top-tier brands on offer at Union Station helps to set a precedent for the cannabis industry going forward. And he adds, it also represents an incredible way for FIKA to further its own vision and objectives.
"It's an opportunity for amazing scale," he admits. "Union Station is the busiest building in Canada, and this new location gives us the opportunity to bring our elevated approach to cannabis retail to the 300,000 people who pass through the building each and every day – from commuters picking up a little treat on their way home from work to fans grabbing an edible or a pre-roll en-route to a game or a concert, and tourists dipping their toes into the legal cannabis market for the first time."
Inviting Design
The Union Station store, which will be located in the heart of the newly renovated Bay St. Promenade, has been carefully designed by world-renowned firm, GH+A Design Studios. In an effort to create an optimal consumer shopping experience, the elegant space includes herringbone flooring and white oak slat walls housing a number of features. The Flower Bar displays a range of cannabis flower. The Express Bar provides visitors with the ease and convenience of in-store pick-up. Vape and Pre-Roll Bars display a variety of cartridges and pre-rolled joints. And, the Tuck Shop offers an assortment of cannabis-infused chocolate, gummies, and beverages.
It's a design that Kane says is one that was executed with extreme thought and strategy, just like the 17 other locations within its growing portfolio of stores. And, he adds, it's also a design that's been constructed with specific intentions and the guest experience front-of-mind.
"At FIKA, we're on a mission to redefine cannabis retail," he explains. "A huge part of that means reducing the stigma associated with cannabis and ensuring that a cannabis shopping experience feels accessible to everyone. I always like to say we're building stores that you feel comfortable bringing anyone to — obviously, if you're of age — from your best friend to your significant other to your mother and your grandmother. By creating comfortable and warm environments, and giving you the best possible customer experience, we're making shopping for cannabis as delightful as shopping for a beautiful new pair of shoes."
Superior Service
Moving the needle in a positive direction when it comes to reducing the stigma around cannabis use seems to be a bit of a slow burn. However, Kane explains that much of those efforts start with building meaningful relationships with landlords. If a cannabis retailer can get their landlord to believe in their brand and what it's doing, it becomes easier to make an enhanced experience available to customers. However, he suggests that the most important tool that can be leveraged to remove negative stigma around the industry is to focus on delivering exceptional in-store service – an element that helps anchor everything the FIKA brand stands for.
"Moving forward, we're going to continue to build on the foundations that make FIKA the brand it is: our exceptional customer experience, our triple-A locations, and our industry-leading approach to store design. And at the heart of our brand, our passionate and dedicated FIKA Ambassadors. You'll see all of these principles brought to life at our new Union Station flagship. And, like every FIKA store, it will be staffed by highly trained Ambassadors. Every FIKA Ambassador has both a high degree of cannabis knowledge and a commitment to the very best customer service. I can say with confidence that we have the best team members in the business – you'll feel it from the minute you walk into any of our locations."
Tags:

cannabis

(32)

, Cannabis Industry

(159)

, Cannabis Retail

(331)

, Christopher Kane

(1)

, FIKA

(1)

, Union Station

(1)