Finding a Niche for Your Cannabis Store
Depending on where you live in Canada, it's not uncommon to walk down a main street in any city and discover several cannabis shops within a few city blocks; to say it's oversaturated in some areas would be an understatement.
Having said that, even smaller cities with less cannabis stores per block should still consider how and what makes them stand out from the pack. But what does that look like, and what do you need to consider?
It's all About Price & Products
The first thing any store should consider is the price bands that they wish to carry. This decision should not be one made in a silo but based on a review of the demographics in your area. If your store is situated in an exclusive neighbourhood, you shouldn't focus on value brands. If you aren't considering your customer's wallet, then you aren't really digging into who they are, and you will miss the mark on your offerings.
Curate products within price bands that suit several different types of consumers.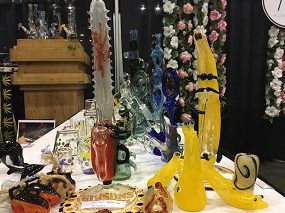 We certainly see a lot of value retailers popping up. Their intention is very clear out of the gate; they offer the lowest prices and intend to undercut their competitors. Considering the current market, inflation, and a looming recession, this absolutely is a strong foot forward in some markets. However, your customers may not all be after the best bang-for-their-buck. By listening to your customers' feedback, you can begin to curate products within price bands that suit several different types of consumers. The 80/20 rule is always a great way to audit your offerings. If 80% of your sales are coming from 20% of your products, that gives you 80% of your products to play with and strengthen your offerings across the board. Promote add-ons and encourage curious customers to experience different cannabis categories.
Knowing your Competition & Customer Feedback
Audit, audit, and audit. The only way you can stay competitive is by knowing what else is going on in the industry, specifically in the stores in and around your location. Without understanding what other retailers are offering, and at what price, it's difficult to offer a curated selection of products that complement and/or compete with those around you. This also helps you gauge price tolerance in your neighbourhood. While a lot of customers purchase on price, a lot of them also appreciate convenience and are happy to pay a fair price to support their local independent shop.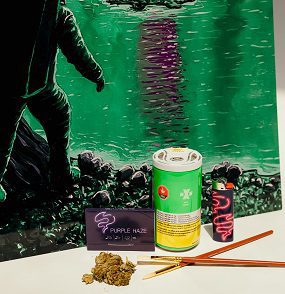 The customer journey is more important than ever. Listen to your customers, since they will often gladly express to you why and where they have purchased from, as well as what they are looking for. Your regular customers can become some of your most valuable qualitative market research. This information provides insights into different demographics and psychographics, the latter of which is often more influential in the cannabis industry. Psychographics refers to your consumers' overall values and desires, their own personal or professional goals, overall interests, and their lifestyle choices. Are they pro small business? Are they really into wellness? Do they get inspired by cannabis and like to create art? These kinds of attributes are very valuable in helping you differentiate your store from the average store on your block.
Store Ambiance & Experience
What else are you offering your customers? Do you aspire to be a destination store, like the Superette model, or are you bargain basics like Value Buds? Considering what your store looks and feels like can go a long way in standing out from the crowd. Your store's aesthetics should align with the overall communications strategy you share with your customers.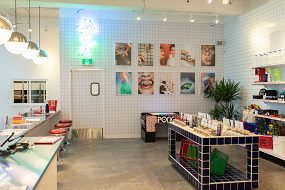 You may strive to have the best prices in town, but that doesn't mean your store has to look baron. You may have a more high-profile premium offering model, but still aspire to a simple, modern vibe. Maybe you want to offer the gamut of price bands, and design a colourful, fun, and inviting store. The choices are endless and shouldn't be constricted. From your store's facade to the bags offered at check-out, every element should tie into the intended atmosphere.
Customer service also plays a huge role. This can either be a great experience that keeps clients coming back, or an awful one that sets them on their path to the next store down the block. Having plans and communications in place for your budtenders to leverage allows them to be more present, confident, and appreciated by patrons. Training and education are paramount for staff to feel empowered in their roles. Underestimating this part of your store's practices can make or break you.
Communication with Intention
Promotional in this industry can be difficult to navigate, but the promotions you can offer should be influenced by your sales and customer feedback, not just one or the other. Having complementary offerings and promotions means you can catch a wider net of consumers and alleviates any potential alienation.
Customer relationship management is as much about the communication as it is the people and the numbers. Customer loyalty programs are growing exponentially and allow for the opportunity to differentiate stores as well. Maybe it's rewards points, a percent off every other purchase, or a reduced price on a basket add-on, whatever it may be, remember to audit your competitors as well to stay competitive.
Stick it Out
Staying competitive and relevant in a sea of cannabis stores can feel truly daunting, especially if you do not have the support of a franchise or big retailer network. Remember that customers really are going to be your true north, so listen to them and trust them. Develop a brand that always centers around their experience and your store will stand out.
Tags:

Bella Mitchell

(8)

, cannabis retail marketing

(1)

, competitive advantage

(1)

, demographics

(1)

, niche marketing

(1)

, psychographics

(1)

, store ambiance

(1)