Flower Sales Decreasing Since 2019
The Flower category has the highest market share of all cannabis products but that wallet share is decreasing as the market in Canada matures and new formats enter the market.
According to recent data from Headset, from March 2019 to April 2022, Flower market share has dropped from 78.8% to 42.5% in Canada. However, Flower still captures twice as many sales as Pre-rolls, which is the second highest category.

As the most affordable and versatile product in the market, it's no surprise that consumers like this format.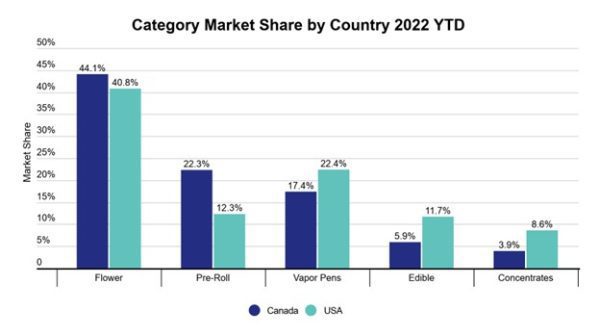 ‍‍Flower Segments & Strains
‍Hybrid sales take the lead in the Flower segment with 47.5% share, followed by Indica at 30.3%, then Sativa at 16.1% and Ground Flower, which is rising in popularity at 5.4%.
Pink Kush is the stand-alone strain winner in terms of total sales volume taking 5.9% sales share and was sold by nine distinct brands for the 90-day period ending May 2, 2022. Sativa Only captured 5.5% of sales and Indica Only had 4.6%. These are products that don't explicitly list a strain name but instead are trying to market a more general Sativa or Indica experience.

‍Price Decreasing
The price of Flower has been decreasing steadily since 2021. From January 2021 to March 2022, the average equivalized (EQ) price of Flower dropped by 17% in Canada from $6.74 to $5.58. EQ price is the average price customers pay for a gram of Flower, averaged across all package sizes.
Demographic Trends
Generally, male customers spend proportionally more on Flower than their female counterparts. Consumers in the baby boomer age group tend to spend the most on Flower, followed closely by millennials, whereas Gen Z spends the least on Flower.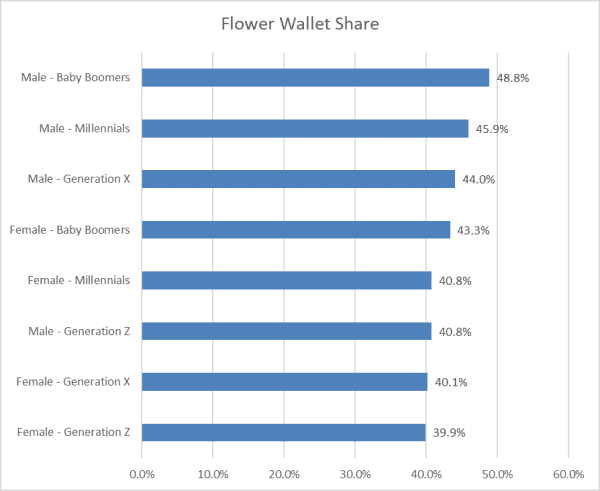 ‍While Flower's popularity has been declining recently due to more products in different categories being introduced to the market, this category will likely always be the dominant form for consumers.
Note: Unless otherwise noted Headset's data is from AB, BC, ON, and SK.
Tags:

Canadian cannabis industry

(38)

, cannabis category market share 2022

(1)

, cannabis demographic trends

(2)

, cannabis flower trends

(1)

, Cannabis Sales

(55)

, flower wallet share by demographic

(1)

, Headset

(41)