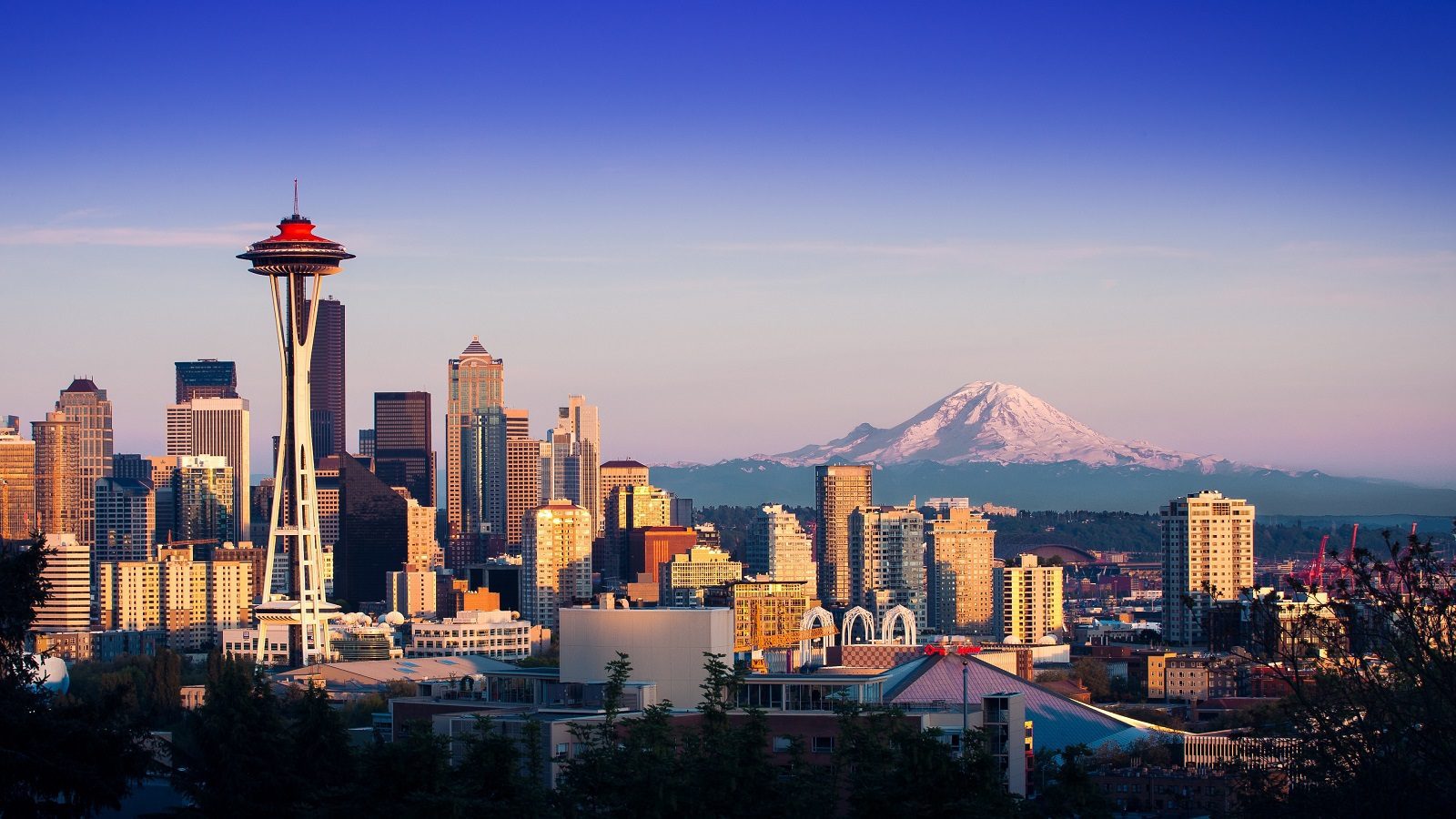 How Do BC and WA Markets Compare?
Being separated by only the 49th parallel, one would imagine that cannabis consumers and cannabis markets might be fairly similar. Surely, a border doesn't make that much of a difference—or does it?
Right off the bat, a key difference is the way retailers and producers are allowed to market themselves and their products. In general, US regulations are much more lax than here in the north, resulting in a greater connection between brands and consumers. Not only that, but recreational cannabis retail has been legal in Washington since 2014, giving the Evergreen State a four-year head start on the acceptance and adoption of cannabis.
Sales
When it comes to sales, there is a clear winner here. According to Headset, it can be tricky to compare sales between states and provinces due to the difference in currencies and the value each holds. However, Washington has earned nearly three times more than BC so far this year and blew it out of the water last year in earnings as well.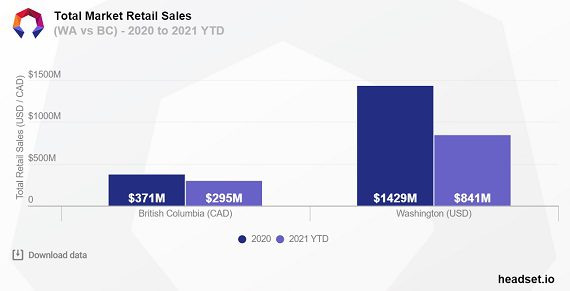 Technically, BC has only had three years of retail experience compared to Washington's seven, but even when comparing BC's sales from 2020 to Washington's 2016 sales, the province can't catch up.
As of July 30, in BC there were 367 licensed cannabis retail stores open in the province, compared with 423 in Washington. According to Headset data, when adjusting for population, BC actually has more retailers per resident at 7.2 than Washington does with 5.6 retailers per resident. This means that so far this year, each retailer in BC has earned an average of $806,010.93. In Washington, that average is around $1.98 million.
Products
It's no surprise that dried flower is the most popular product in both markets, as it is in most markets, however, that seems to be where the similarities end. Washingtonian cannabis users tend to gravitate towards vapour pens over pre-rolls as their second choice, whereas in BC this preference is switched. Concentrates and edibles are wildly more popular in Washington as well, but oils and capsules sell more frequently in British Columbia.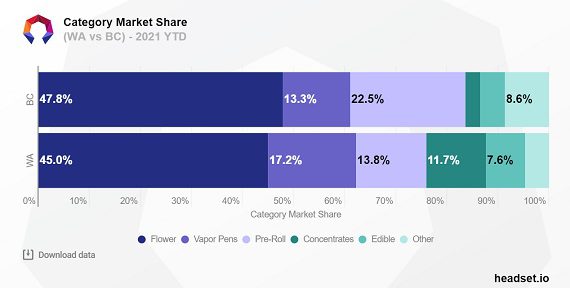 Headset says that Washington is known for its expansive product selection—they tracked over 65,000 unique cannabis products sold so far in 2021 in the state—even compared with the rest of the country. Only 2,025 unique products have been sold in BC so far this year. The average store in BC has sold 453 unique cannabis products compared to an average of 1,706 in Washington.
Regulations
One main regulatory difference that could be affecting the discrepancies in sales could be Washington's stance on cultivation for personal use. Like BC, growing your own cannabis is allowed for medical patients, however, the state does not allow unlicensed cultivation for personal use. Of course, backyard cannabis gardeners won't account for the entire gap, but it may be a contributing factor, along with BC's illicit market.
In Washington, an entity can hold grower and processor licenses simultaneously, but they cannot be retailers and vice versa.
When it comes to taxes, Washington collects 37% tax on each retail sale, with the majority of the money promised to public health programs, community health centres, and substance abuse prevention. In BC, most cannabis products have the same 12% Provincial Sales Tax (PST) and Government Sales Tax (GST), and vapour products are taxed at 20%.
Tags:

British Columbia cannabis

(25)

, cannabis concentrates

(5)

, cannabis edibles

(33)

, Cannabis Industry

(138)

, cannabis oils

(2)

, cannabis product selection

(1)

, Cannabis Retail

(294)

, Cannabis Sales

(38)

, cannabis taxes

(3)

, dried flower

(3)

, Headset

(36)

, recreational cannabis

(43)

, vapour pens

(1)

, Washington cannabis

(1)