Mota Toke-Dwight Clark's Labour of Love
Mota Toke in East York, in Toronto, was the 250th cannabis retail store to open in Ontario, and having just celebrated its first anniversary, co-owner Dwight Clarke feels blessed by the store's success so far, but as a fully independent, black-owned cannabis business, the road hasn't been easy.
Labour of Love
Clarke and his business partner received their Retail Store Authorization (RSA) in early March 2020—the month that will forever live in infamy as the beginning of the COVID-19 pandemic—making finding an appropriate space at the right price a challenge, to say the least, but two weeks later the team started building out their store.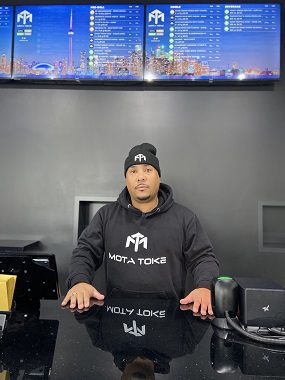 "We are the most independent of independent stores," Clarke says with pride. "We never took a dollar from any investor—no banks or anything—it was all in-house." With help from friends and family, Mota Toke finally opened its doors on November 27, 2020. "It wasn't easy, to say the least. For my business partner and I, it was a grind, but between saving money from jobs and [getting] blessings from family we were able to get started."
Despite opening a new store, in a new industry, during a pandemic and on a strict budget, Clarke stuck with it—it was a labour of love. "My brother was a part of the legacy market, but he passed away in 2017. He inspired me to get involved when it became legalized."
The Mota Brand
When creating Mota Toke, Clarke says they didn't want to take the typical route, but still wanted to represent the culture, so they landed on mota, the word used to refer to cannabis in Central America. The boutique-style store has an upscale urban vibe, where you'll hear a wide range of music or catch the Raptors' or Leafs' game. "Our brand is that we are a Black cannabis store, and the theme is our brand," Clarke says, but the store is a melting pot, where everyone can feel welcome.
Speaking of customers, "The people who come in usually know what they want, so there's a basic conversation. The educational aspect isn't as big as I thought. "
It's because his customers know what they want that Clarke is able to streamline his inventory. "I don't carry everything, it's a waste of time," he says. "I need to have everything on my shelves move, so I don't bother with some products."
Mota's budtenders aren't stuck behind the counter, though. "My budtenders are experts, but their people skills and having a positive attitude and engaging with customers individually is what's important. They are great at remembering customer's names and making them feel welcome."
The past year has been filled with learning experiences and opportunities to tighten up the ship, which Clarke does every chance he gets. "It's my baby," he says. "It's definitely been a learning curve of what I need and what I don't. You realize that once you're in the game, you don't really need a lot."
Community
It's important to Clarke to provide opportunities for his community, which is why he makes a point to only hire women of colour who are single mothers. "I'd rather give them the opportunities," he says. "They're the ones who need it."
It's a fact that People of Colour (POC) have been more affected by the War on Drugs due to economic conditions and systemic racism, and Clarke says that discrimination still happens, sometimes feeling singled-out and overburdened. Clarke persevered, but lots of POC don't have the opportunity to even start.
"It comes down to money and opportunities. Talk is one thing, action is another. Action takes money and opportunity. There are people who want to put in the work to get to the next level, but finances aren't available to us that will take us to that next level. Opportunity is providing resources, direction, networking, connections, and support. It takes help from people in the industry to make that truly work for us. We need guidance because we don't have those connections."
From Snoop Dogg to Bob Marley, POC have made the culture of cannabis what it is today and rather than being celebrated for their contributions have taken the brunt of the backlash. Clarke is happy to make his contribution, though.
"At the end of the day, I'm blessed and happy that I've put something together that my son, niece, and nephew can look forward to. It's something to leave to them—in our community, we don't usually have that. I want to make sure everyone is supported and happy, that's what matters."
Tags:

black cannabis store

(1)

, Black-owned business

(2)

, Cannabis Industry

(168)

, Cannabis Retail Store

(47)

, Dwight Clarke

(1)

, Mota Toke

(1)

, Ontario Cannabis Store

(66)

, People of Colour

(1)

, single mothers

(1)