NUMO Cannabis Grows in Edmonton
Fueled by a passion for cannabis, and a near-death experience, CEO Daniel Nguyen created Edmonton's NUMO Cannabis and has taken it from strength to strength. Nguyen continues to lead with a love of cannabis as he prepares to open his fifth store in Edmonton, in addition to stores at Alberta Ave (95th St.), Oliver (124th St.), Chinatown (97th St) and Skyview (137th St.).
Founding NUMO
After Nguyen was suddenly rushed to hospital with a collapsed lung during his last year of university, he submitted an application and invested his entire savings into creating NUMO Cannabis, which he named after his condition (spontaneous pneumothorax). "I want NUMO to remind people to wholeheartedly and intentionally pursue their desires and aspirations without waiting or hesitation," Nguyen says. "I hope that people hear my story and decide to act on and work towards their goals and desires; life is short."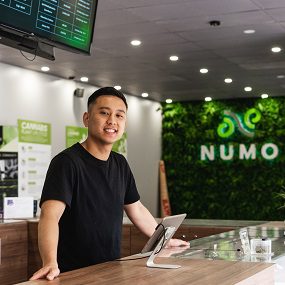 NUMO was one of the first stores to open on October 17, 2018. "We had little time to prepare; we received our final green light to build the store only one month before," remembers Nguyen. "This meant building, inspecting, licensing, and stocking the new store in a month. I'm so grateful to be part of that monumental time and thankful for our supporters from Day One that still come into our locations to this day."
Celebrating Community
Many NUMO staff have been there since Day One, too, making NUMO an important part of the cannabis community. NUMO is the first cannabis retailer to legally deliver to major events for onsite consumption within Edmonton, including festivals such as the Great Outdoor Comedy Show and the Together Again Music Festival.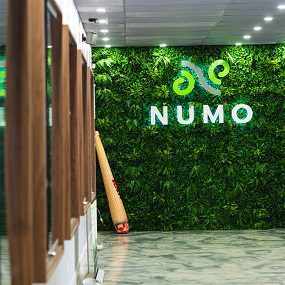 NUMO Alley, an outdoor art space next to the Oliver store, was created to host inclusive comedy, yoga, and music events that help destigmatize the consumption of cannabis in everyday life. "We've also hosted markets with local vendors to spotlight the community and bring vibrancy to the area," Nguyen says. His team even created an experiential art 'Infinity Forest' in the Oliver store, which is a 360° mirror room with reclaimed oak trees that represents an oasis of nature in the city.
Overcoming Challenges
Business has not been without challenges, from the early days of expensive flower to Alberta's moratorium on new openings in 2019, and the pandemic in 2020, but Nguyen continued to focus on his stores and even increased sales in some.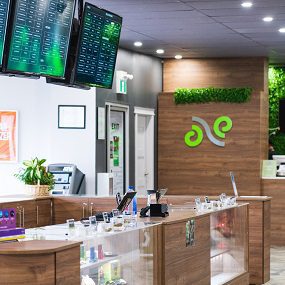 Last year saw more value-chain stores and discount retailers entering the market, lowering margins to offer cheaper products. "Although we are competitive in price, our business model doesn't focus on price, but rather service and selection," says Nguyen. "Rather than engaging in a price war, we try to selectively curate a menu of producers that you won't see in every major chain. Some of our products overlap, but for the most part we differentiate completely based on the products we bring in. Pair that with our knowledgeable service, and we provide an experience that is unique to us, based on what we like to consume, and want to share with the community."
"We identify opportunities, ideate, innovate, and take action," he explains. When costly digital integrated menu solutions didn't work for his team, Nguyen set out to build an application that did. The result was a fully integrated, custom-themed, digital signage application for use exclusively in NUMO Cannabis locations. "Now, this menu system is one of the main reasons many customers like browsing our stores and website," says Nguyen. "Customers appreciate the selection that we curate and often provide positive feedback on the different genetics and producers that they find at our stores."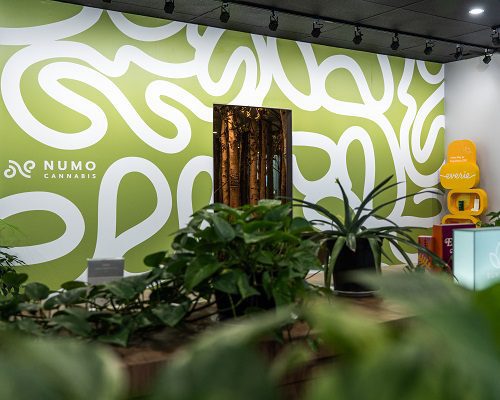 In an industry rife with mergers and acquisitions, Nguyen maintains his independent spirit. "We've had offers to sell, but NUMO is here to stay," he says. "I joined this industry to spread my passion and excitement for cannabis, and I don't plan on leaving this space. All of these challenges are a part of NUMO's journey, and without them we wouldn't have become the brand we are today."
Edmonton Expansions
NUMO's expansion was organic, rather than planned, with Nguyen pursuing unique opportunities that presented themselves. "My fifth location is in another location dear to my heart, as it's the first neighbourhood I grew up in," he notes. "It was an area that all Vietnamese people in Edmonton migrated to back in the late 1990s. I grew up on 107 Avenue and now I am opening our newest location in the central McDougall neighborhood. I'm excited to get back into this community and make my impact."
Tags:

Cannabis Industry

(138)

, Cannabis Retail

(294)

, Daniel Nguyen

(1)

, Edmonton cannabis store

(1)

, NUMO Alley

(1)

, Numo Cannabis

(2)