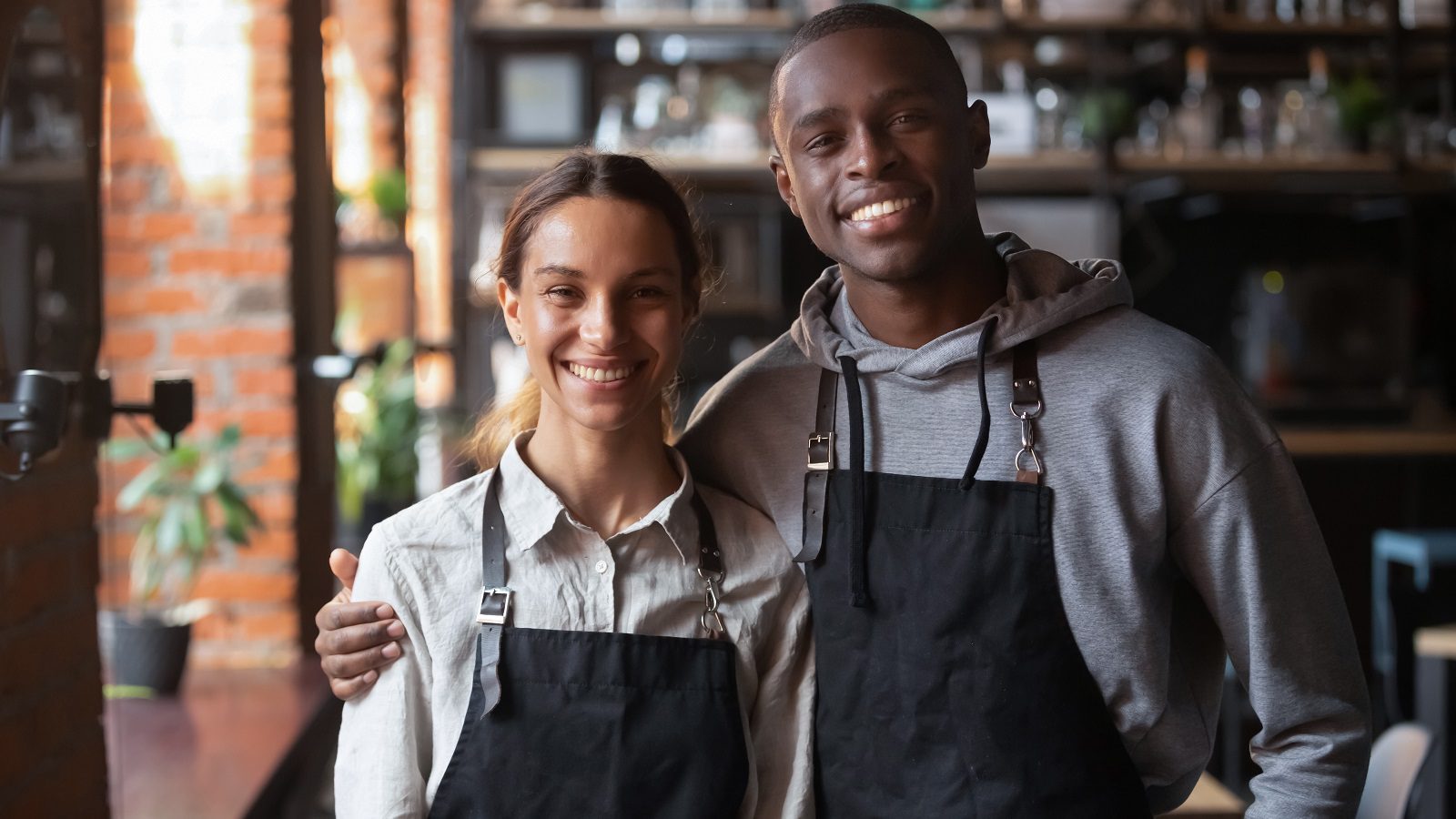 "When the Cannabis Act was put in place, it was void of social justice measure," says Jenna Valleriani, Senior Manager of Social Responsibility at the Ontario Cannabis Store (OCS), when she sat down with Cannabis Retailer. "These things have to happen in tandem," she adds.
Through her role at the OCS, Valleriani and her Social Responsibility team are helping the OCS clear a path toward a more diverse, equitable, and inclusive (DEI) provincial cannabis industry, recognizing there is a lot more that needs to be done as the industry continues to grow.

Valleriani explains that defining the OCS's social responsibility strategy involved consulting various industry stakeholders, including government officials, research organizations, advocates, and members of the business community. "Diversity, equity, and inclusion and the ways the OCS could foster or better support Black, Indigenous, and people of colour's participation really rose to the top," she says.
This is reflected as a formal strategy in the OCS' three pillars for social responsibility: sustainability, inclusion, and knowledge. Per the OCS, examples of actions within the inclusion strategy include developing policies and new business processes to support industry partners owned by Black, Indigenous, and people of colour; understanding gaps in diverse representation; and maintaining a workforce at OCS reflective of Ontario's diverse population.
A Lack of DEI in Canadian Cannabis Rises to the Surface
The OCS funded the Deloitte report "The Industry Makes Its Mark: The economic and social impact on Canada's cannabis sector", which summarized research on DEI in Canadian cannabis.
In 2020, a study revealed that racialized men and women were significantly represented, showing that 84% of 700 executives at 222 companies were white, and 86% of those white executives were men. The report also highlighted the rate at which racialized people are disproportionately targeted for arrests. For example, in Toronto between 2003 and 2013, Black Canadians with no criminal record were 3x more likely to be arrested for cannabis than people who are white. Black youth in Canada are 5x more likely to be arrested than people in Canada who are white.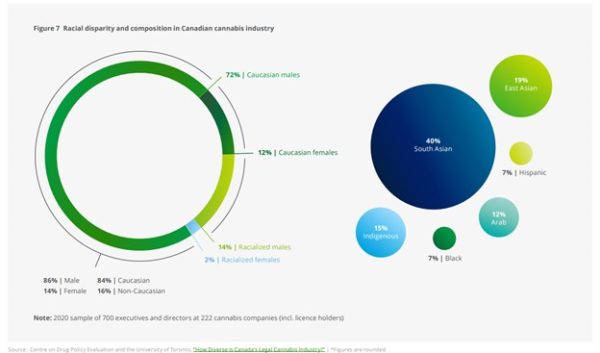 The report calls for the collaboration between federal and provincial licensing bodies to ensure a more diverse, equitable, and inclusive industry.
Recognizing Other Barriers for Racialized Groups in Cannabis
Valleriani applies both her experiences within corporate cannabis and studying drug policy to leading the social responsibility team at OCS. "The transition pathways can be very challenging for those coming from the legacy market. General understanding and accessibility of the regulations themselves can be challenging and daunting," she says. "What we know from other research is that access to capital can be a big hurdle for business owners," she says, also noting how funding opportunities available to entrepreneurs are exclusionary to the cannabis sector. She points to the Canadian government's Black Entrepreneur Loan Fund to include the cannabis sector as an indication of growth toward equity in the legal industry.
The OCS recently partnered with the CannExpo, which will be held in Toronto March 24-26, 2023 to sponsor 10 Access Grants, aiming to increase the presence and participation of Black, Indigenous, and people of colour-owned companies at the event by providing successful applicants with free in-kind registration and a booth.
"Trade shows are a lot of where business and networking happens," notes Valleriani, "Those informal opportunities are so important as well as people [who] are starting their business."
Those who receive the grants were randomly chosen based on baseline eligibility criteria. "It's hard to determine who and who is not deserving of something like this," Valleriani says of the random selection process for these grants, "Everyone deserves access to an event like this. The equal chance of being selected was really important."
A Dedication to Continuous Improvement in DEI
Valleriani works with other social responsibility practitioners across Canada through the Canadian Cannabis Jurisdictional Leadership (CCJL), which is a cross-jurisdictional network that discusses best practices for the national industry.
She notes that a program similar to the B.C. Indigenous Cannabis Product (BCICP) program is on the OCS' radar. The OCS will continue to feature Black, Indigenous, and people of colour-owned cannabis businesses on their website, blogs, and various communications channels. "We want to celebrate the diversity of participation in the Ontario retail sectors, and we're laying the groundwork," explains Valleriani.
The OCS is expanding on the 2020 study that looked at diversity in licensed producers and is working Dr. Akwasi Owusu-Bempah to examine diversity in Canada's retail cannabis space. Vallerani indicates that this is "a really great first step that will help us tailor programming and initiatives that will help us identify the gaps."
Soon the OCS will launch a Social Impact Fund for nonprofits, charities, and academic institutions that align with their three pillars of social responsibility. This is a program "to empower some organizations that are already doing critical work on the ground that have ties with various communities that we will want to reach," describes Valleriani. "Social impact is a mix of changes at the organization, but also supporting our community and partners who are already doing the work. There is no need to reinvent the wheel," she says. "Seeing how we can step in and support the work when we are working towards the same goals is really exciting for us at the OCS."
Tags:

BIPOC

(2)

, Canadian Cannabis Jurisdictional Leadership

(1)

, Cannabis Act

(33)

, DEI

(2)

, diversity equity and inclusion

(2)

, Dr. Akwasi Owusu-Bempah

(1)

, Jenna Valleriani

(2)

, OCS

(34)

, Ontario Cannabis Store

(66)

, social responsibility

(5)