Single and Multi-Pack Pre-Rolls Trends
How are pre-rolls sold, who is buying them, and what are the most popular package sizes? A new Headset report looks at key trends in the segment.
Note: Headset's report examines markets in Colorado, California, Washington, Nevada, Oregon, and Michigan in the US and Alberta, Ontario, British Columbia, and Saskatchewan in Canada.

Multi-Pack Pre-Rolls Are More Popular
Multi-Pack Pre-Rolls accounted for 79% of pre-roll sales in Canada in 2021, compared to 25% in the United States. Similarly, Multi-Packs made up 89% of sales in Canada, versus 43% in the US.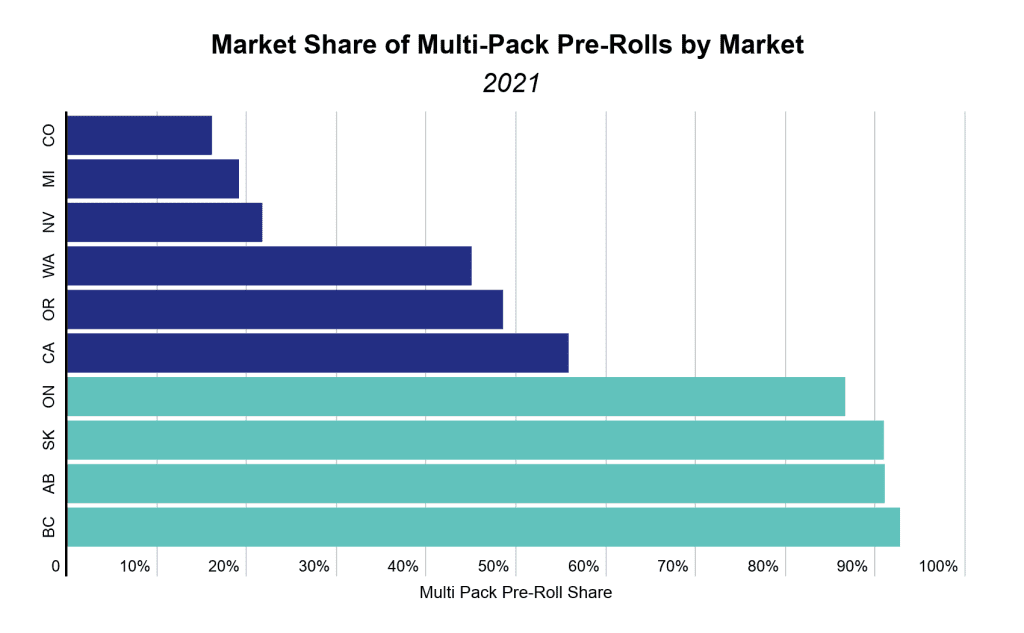 When you break down sales by province, all of the Canadian markets exceed share in Multi-Pack Pre-Rolls compared to the US markets. Ontario has the lowest share of the Canadian market at 87%, but this still exceeds the top US market, California, by over 20%.
Multi-Pack Popularity Has Grown Steadily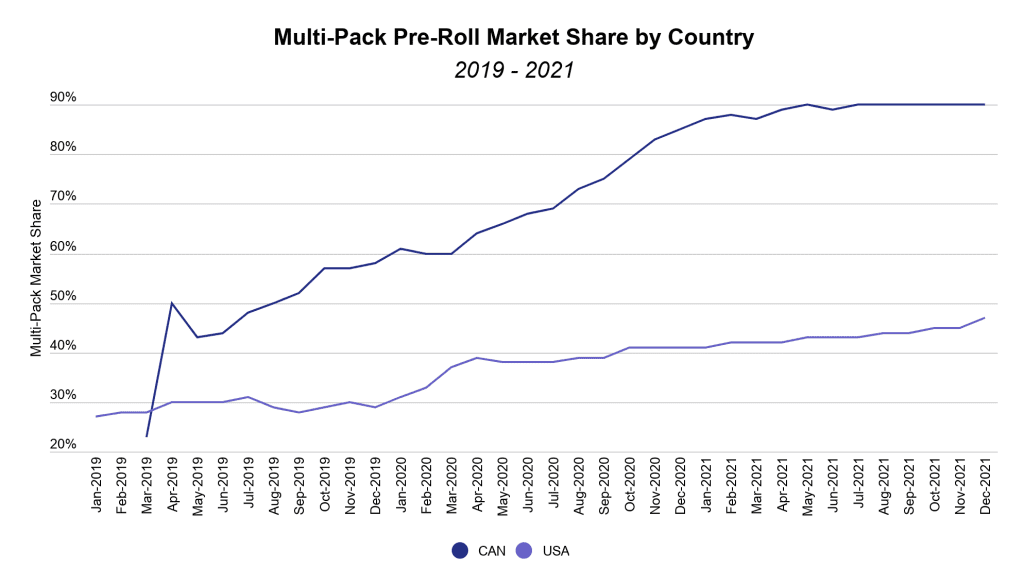 Since Multi-Pack Pre-Rolls entered the market in Canada in March 2019, they have done well and risen steadily in popularity through 2019 and 2020.
Average Price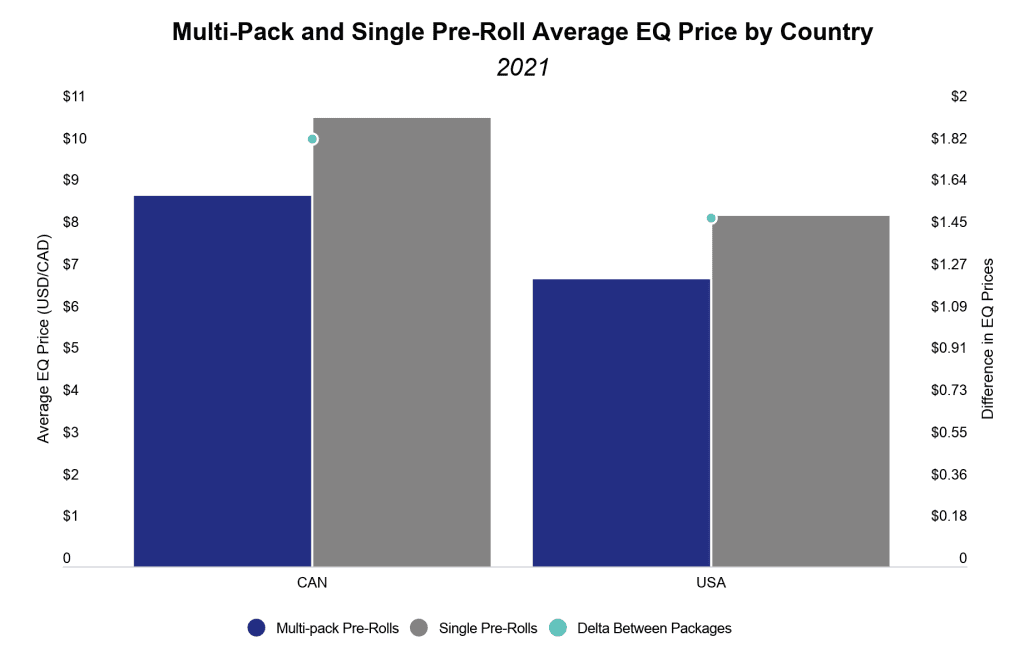 In Canada, Single Pre-Rolls had an average price per gram of $10.67 and Multi-Packs an average price of $8.82, with a difference of $1.85. This is comparable to pricing in the United States, where the difference between a Single and Multi-Pack Pre-Roll was $1.51 in 2021.
Multi-Packs Popular Among All Generations and Genders
Headset looked at how different age groups are purchasing Pre-Rolls in Canada, specifically in Alberta and Ontario. Multi-Packs were popular among all generations and both men and women. Market share increased as age groups got older.
Headset suggests this is because older generations already know what they want a Pre-Roll, leading them to purchase a Multi-Pack. Single Pre-Rolls might be more for experimentation or specialty purchases. Younger Generation Z consumers might not have the same amount of income as older age groups, leading them to purchase cheaper Single Pre-Rolls.
Female consumers had marginally more market share in Multi-Pack Pre-Rolls compared to males.
3-Packs and 10-Packs the Most Popular in Canada
In Canada, consumers prefer 3-packs (36%) and 10-packs (27%), unlike the US, where consumers prefer 5-packs (37%) and 2-packs (14%).
Tags:

cannabis retail trends

(13)

, cannabis sales trends

(46)

, cannabis trends

(27)

, consumer trends

(38)

, Headset

(41)

, pre-rolls

(6)