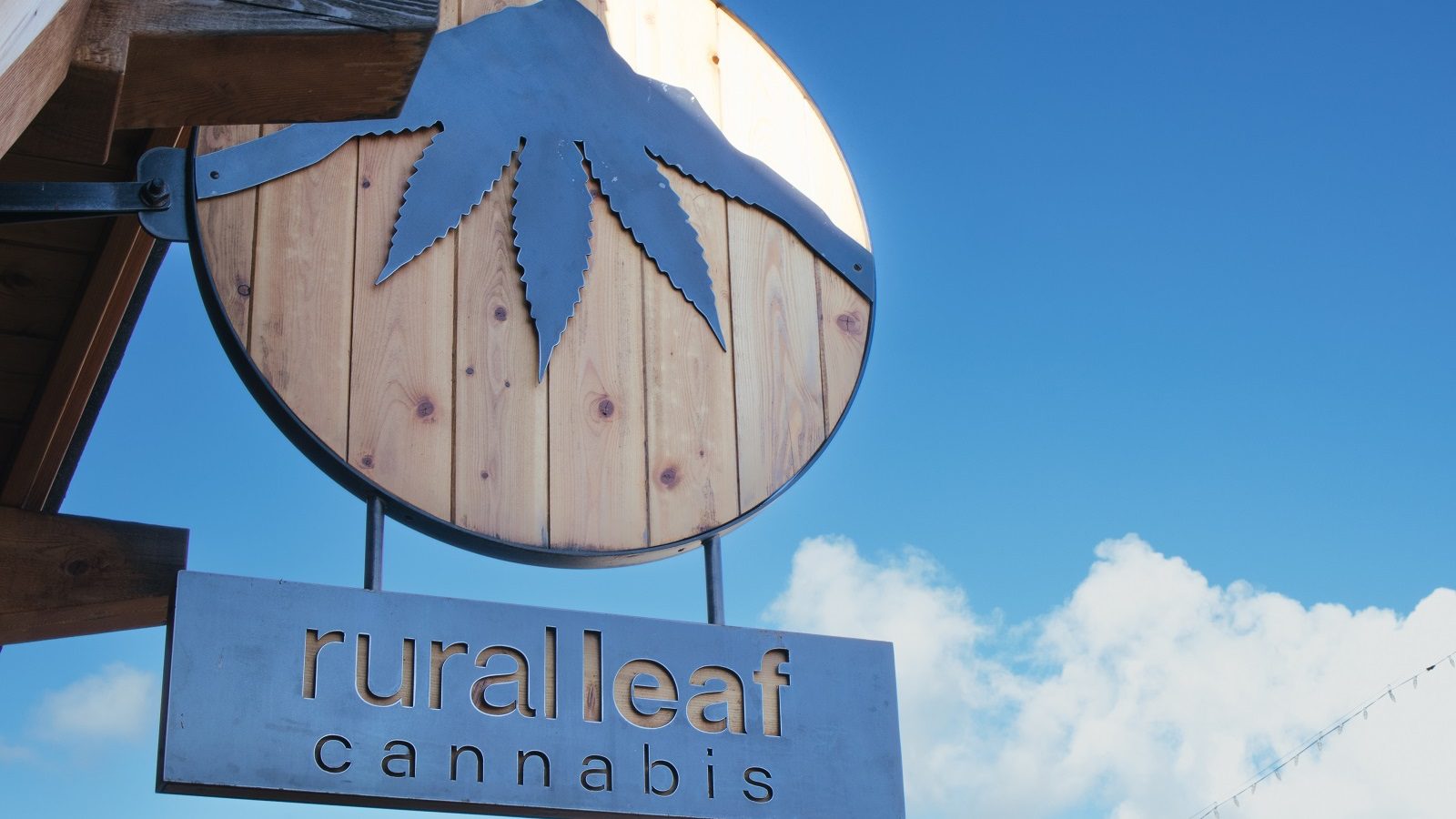 Rural Leaf Cannabis in Smithers
With four stores exclusively in small towns across British Columbia, Rural Leaf Cannabis is true to its name in location, design, and its community-minded approach.
Started by three friends, Alfred Schaefer, Peter Greene, and Mike Abbot, Rural Leaf opened its first location in Smithers one year to the day after legalization on October 17, 2019. A second location opened in Houston in November 2020, followed by a third in Valemount in summer 2021. The latest Rural Leaf location opened in Fort St. James in December 2021.

All of Rural Leaf's stores are in small towns and Schaefer says this was an intentional business decision: "All of these small towns can only support one cannabis store, so it may as well be us. They're all places we're familiar with and like going to. We're all from small towns and we like being in them."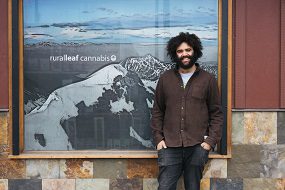 When asked about their first opening in Smithers, Schaefer says the Town Council was quite supportive, but they were unsure how town members would respond—so they brought in some backup. "All of our moms came to the council meeting to support and brought their friends. It was all these moms at a council meeting."
The store opening was received well. Schaefer says Smithers is a cannabis-friendly kind of town and there are lots of people with product knowledge. "We wanted to be a very comfortable place, knowing the dynamics of the town. We wanted to be somewhere—no matter how old you are or where you are in life—you felt comfortable coming in."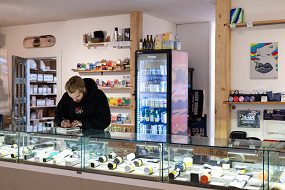 Rural Leaf has worked to create an environment that is safe and welcoming. "When we're training people, we tell them to not oversell stuff. Don't lie to people, tell them if you don't like something or if you haven't tried it," says Schaefer. "We emphasize honesty, transparency, and building a trusting relationship."
The owners' rural roots are reflected in the store design. The four locations have a similar feel, but are all unique, bringing the outdoors inside in their own way. This is a nod to the outdoor activities found and loved in these small towns. For instance, in Smithers, Greene made a mountain scene out of wood repurposed from an old fence. In Valemount, they used driftwood to create interesting looking displays.
Rural Leaf also strives to be part of the community fabric. "We try to support the community and whatever is going on," says Schaefer. "We're all trying to create a better environment in our small towns." This includes having a community board to promote events happening in the area. Rural Leaf's team also donates personally and volunteers with various organizations and events happening around the towns they operate in.
When asked what made the stores a success, Schaefer says store layout has been key. "Having shelves behind the counter has really helped—not a lot of stores do. It has helped the overall flow of customer interaction, making it very smooth. We did it accidentally in our first store, and it worked so well that we've replicated it."
Their rural ties have also been a contributing factor to their success. "We saw the opportunity in these small towns, whereas a lot of people may overlook them. We're familiar with small towns, have been through the licensing process, and know we can get through the application process," says Schaefer.
Schaefer is also president of cannabis industry advocacy group, the Retail Cannabis Council of British Columbia (formerly called the Association of Canadian Cannabis Retailers or ACCRES).
He originally joined the council to connect with people in the industry and get business advice. He was also intrigued by their government relations work. "They were advocating for retailers in the space, talking to the government, and working through pain points coming out of this. With totally new legislation, it is hard to get everything right the first time." Shortly after joining, a board position became available, and Schaefer later became president.
The council's mandate is derived from members, and they work with the provincial government, including the LCRB, LDB, and BC Cannabis Secretariat, to create a "more fulsome policy atmosphere."
When asked what's next for Rural Leaf, Schaefer says they have a fifth store in Hazelton that has been in application for a while. He expects the store will open between fall 2022 and spring 2023. "We're always on the look for stuff," he adds. "Any towns that don't have a store yet, we take a look at the population, what's happening, and see if anything else is going in."
Rural Leaf has spent most of their time in business in the pandemic and doesn't know anything else, so Schaefer is optimistic for what is next.
Tags:

Alfred Schaefer

(3)

, BC cannabis store

(19)

, Cannabis Retail

(360)

, Fort St. James

(1)

, Retailer Cannabis Council of BC

(1)

, rural cannabis store

(1)

, Rural Leaf Cannabis

(1)

, Smiothers

(1)

, Valemount

(1)