Stok'd Cannabis Opens Franchised Store
In a crowded Ontario market, there remains little room for real organic growth opportunities for cannabis retailers to either enter or expand operations within the province. However, through a persistent and focused approach, Stok'd Cannabis recently announced the opening of its fourth store in Ontario, and its first franchise location.
Continued Growth
Stok'd Cannabis, which opened in 2021 and now operates three stores in Scarborough in Toronto's east end, as well as another in Niagara Falls, offers its consumers an experiential store environment consisting of cabin-like materials against styled graphics meant to elicit thoughts and feelings of Canadiana. And, according to Lisa Bigioni, Co-Owner and CEO of the growing cannabis retailer, the opening of its fourth location concludes the company's initial growth plans while serving as a launchpad to its next strategic phase.
"Stok'd has taken a slow and steady approach to growth," she says. "Although in other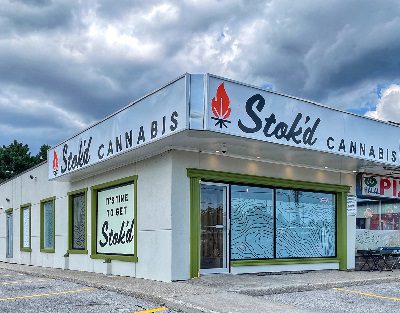 industries, opening four stores in 18 months might not be considered slow. Opening this fourth store, and third in Scarborough, represents the fulfillment of our initial strategy, which was to start with three stores in Scarborough before expanding further. An opportunity to open a store on Stanley Avenue in Niagara Falls temporarily diverted us from that original vision. But we've now seen our vision through to fruition and it feels great."
Franchise Model
Expansion of any kind within a near-saturated market is impressive enough. However, adding significance to the announcement made by Stok'd is the fact that the company's fourth location has opened within a franchise model, something that Bigioni says should serve to fuel future growth for the business.
"We hear from a lot of people that they love our stores—the design, the menu, the 'vibe'— all of it," she asserts. "But working with a partner who loves our stores so much that he was willing to go down this road with us is significant validation for our brand, and our whole store concept. It makes me really proud. It also represents a new direction for us, and one that we're ready for."
Further Growth Expected
Bigioni goes on to explain that she and her company have already entered into serious conversations with multiple parties interested in becoming the next Stok'd Cannabis franchisees. She describes the current period for the operation as an "incredible time for opportunity and growth", crediting her team's dedication and effort as pivotal to the retailer's early success.
"Our growth over the course of the past year-and-a-half has shown us all what the Stok'd team is capable of," she says proudly. "This project stretched our team to the max, and everyone at Stok'd went all out to get this done. I truly couldn't have a better team to have done this with. And, as a result of this work, we're now speaking with potential partners in other parts of the province. We're definitely ready to grow Stok'd with partners who love our stores and who are interested in succeeding with us in Ontario and beyond."
Tags:

cannabis industry growth

(1)

, Cannabis Retail

(294)

, Cannabis Store

(4)

, Lisa Bigioni

(1)

, ontario cannabis market

(6)

, retail expansion

(2)

, Stok'd Cannabis

(1)