Female Cannabis Consumption in Canada
From prized female buds and feminized seeds, to the use of 'mother' plants, the cannabis plant is often lovingly referred to as 'she' by growers. But pop culture references to cannabis consumers tend to focus on men, feeding into the male stoner stereotype. Canada's legalization of non-medical cannabis has helped to shine a light on female cannabis consumption, as women become an increasingly visible segment of the market.
Using data sourced from Applied Knowledge's ongoing cannabis consumption tracker, Cannatrack, we look at consumption trends in Canada between October 18, 2018 and September 30, 2019 from a sample of 33,907 respondents.

Are women consuming as much cannabis as men?
Yes, is the short answer, with only a 1% difference between population responses (~34% of males versus ~33% females have ever consumed cannabis). While men are slightly more likely to have consumed cannabis, the difference is marginal; showing a very even distribution of cannabis consumption amongst males and females since legalization in 2018.
Which age groups are most likely to consume?
When it comes to the age and gender of cannabis consumers, most people are in the 21-39 age bracket, with one surprising result showing that amongst 19-24-year-olds, females are significantly more likely to consume versus males. This breaks down as 40.3% of 19-20-year-old females (versus 36.3% of 19-20-year-old men) and 49.6% of 21-24-year-old women versus 46% of men the same age.
How often are women consuming cannabis?
Amongst the total cannabis consuming population (male and female), 25-29-year-olds have the highest percentage of "high" frequency consumers (more than once a week), followed closely by 35-39-year-olds. The distribution of "high" frequency female consumers is more evenly distributed amongst 19-39-year-olds, but 19-20-year-olds and 25-29-year-olds make up the most engaged users of the category.
Over the past year there has been a significant movement in cannabis consumption amongst the total population. Statistics are seeing "low" or light users (less than once a month) steadily decline and be replaced by "high" or "medium" (between once a week and once a month) users, which are both increasing. Female consumption of cannabis doesn't differ in a meaningful way versus the general population: if anything, the same trend holds, but it is slightly less steep across all consumers.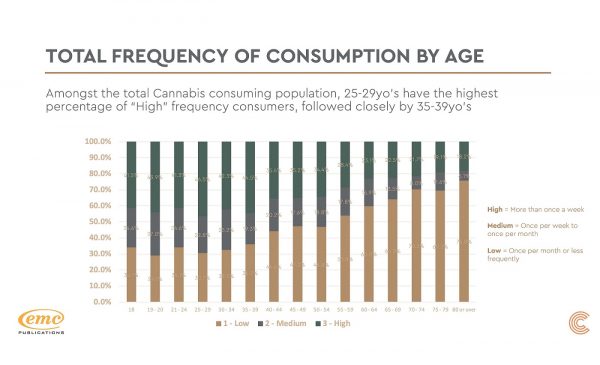 Who is buying cannabis?
Women tend to purchase cannabis much more infrequently than men. Women are also less likely to have purchased the cannabis they consume: Over a third of women in Canada who consume cannabis do not purchase it and rely on friends, etc.
Why are women buying cannabis? Females seem to be more likely to purchase for medicinal or therapeutic reasons (in this case therapeutic purchases are made for the same reason as medicinal ones, but without a prescription). The primary reason, or driver of consumption for females in Canada are "medicinal" in nature and are centred around health benefits such as pain relief (22.9% of women vs. 16.7% of men), anxiety relief (20.9% of women vs. 15.2% of men) or sleep aid (23.7% of women vs. 15.8% of men).
Which types of cannabis are being consumed?
Likely associated with a more "therapeutic/medicinal" approach to consumption, women prefer CBD as their primary type of cannabis, when given the option of sativa, indica, hybrid, or CBD. Reflecting the general trend of all respondents when asked if they know which strain/type they are consuming, most women (48.7%) didn't know (versus 43.7% of men).
While dried flower is the primary format in Canada by a wide margin across the total population, women tend to over-index against "Cannabis 2.0" formats, such as vape pens, edibles (candies and homemade) and oils.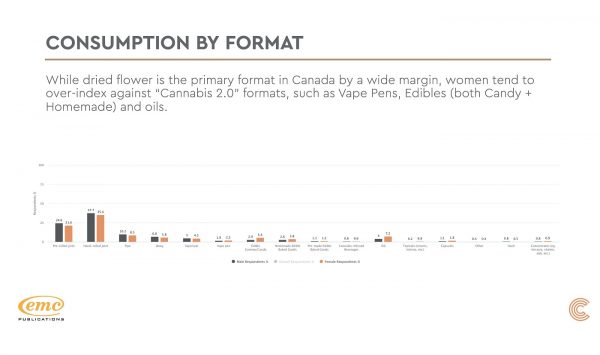 What does this mean for retailers?
Nearly half the female population has consumed cannabis and while they may not yet be the principal purchasers of it, women are choosing to consume cannabis in forms such as oils and edibles. This is promising news for the new categories of vape extracts and edibles that were legalized in October 2019 and are now in the market.
Younger women are also more likely to consume cannabis versus their male counterpoints, an interesting point to consider when it comes to marketing, but also a social responsibility issue to think about alongside research that THC can affect the brain as it develops until the age of 25.
General cannabis consumption trends are showing an increase in more frequent consumption (an uptick in "high" users) across male and female consumers, possibly driven by less social stigma and more availability of legal cannabis.
As more women openly consume cannabis, many are keen to fight the misconception of cannabis consumers as being the predominant male stereotype and reclaim the roots of the cannabis plant as feminine.
Tags:

Cannabis retail stores

(33)

, cannabis retailer

(76)

, Females consuming cannabis

(1)