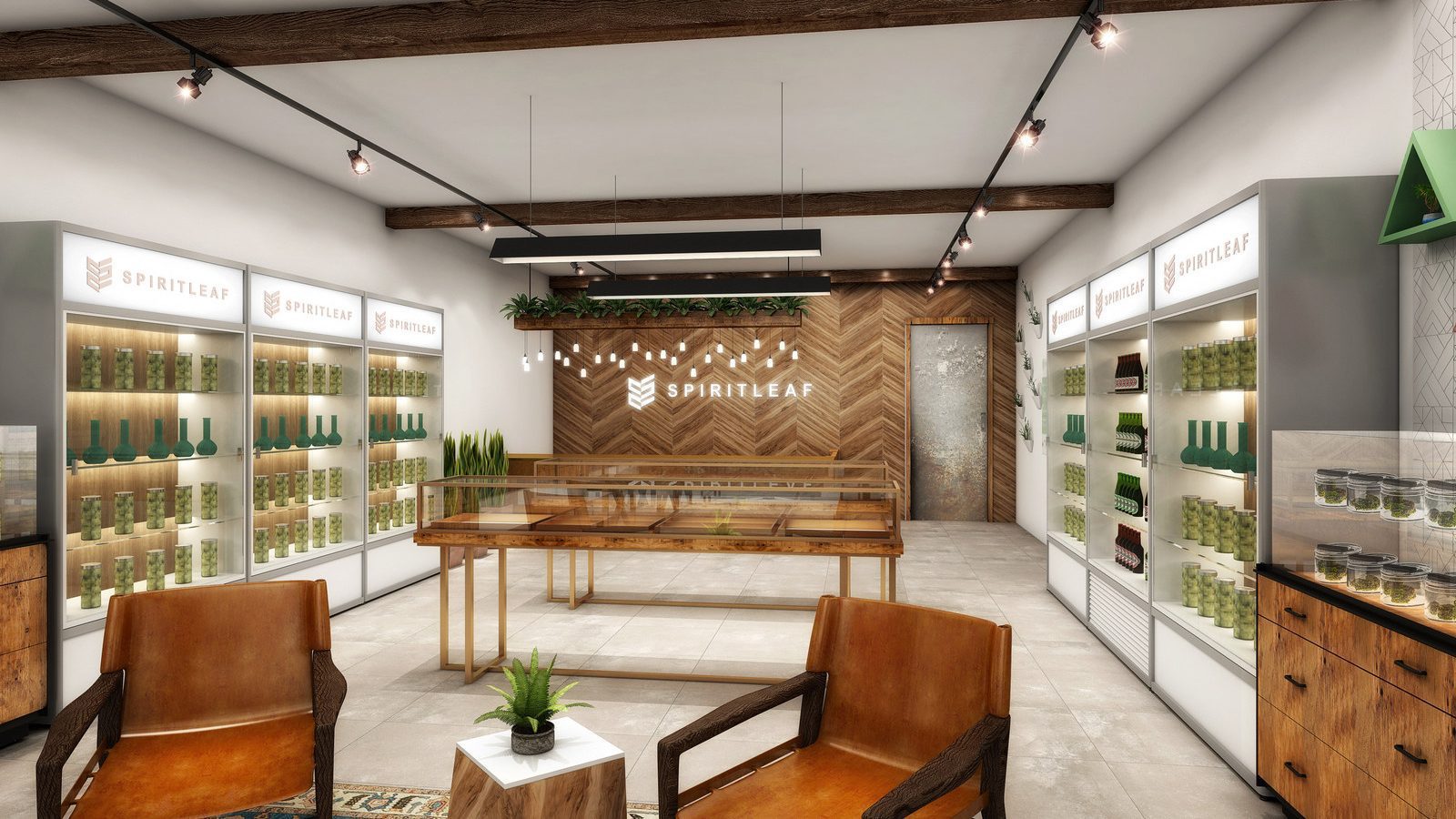 You have your licence and location and are ready to start designing your store, so let's examine the elements of some successful cannabis retailers already in operation across North America.
Approachability is a key factor in store design. Before customers so much as enter your store, they have to feel comfortable in the parking lot. For this reason, lighting is something that must be considered first as people need to feel confident when approaching the premises. Branding is going to play a key role here, as customers need to recognize what sort of services and products are available within the store when they see it. This is especially important when attracting new customers who will essentially enter the store on a whim. The same is true for customers who are looking for a store online. It's crucial that they get a sense that they'll be welcomed and encouraged to enter.
The First Encounter
Once inside the store, a customer will enter the lobby, which should be welcoming and comfortable. The ambiance, lighting, branding, and seating make that happen. Design experts recommend individual seating here as opposed to bench seating, if possible.
Farma is a light, modern space that is designed to put people at ease.
Next, clients will enter the showroom, wherein they'll very quickly observe and analyze everything happening. With almost all of their senses, they'll be making subconscious assumptions about your store before they even look at a product list.
As customers begin to engage with sales staff, bright, clean displays are important. Wherever glass is used, it must be streak-free, and it's a good idea to install clean, modern, and minimalist cases that don't distract from the actual products.
Be Aware of Time Constraints
Any smart store owner will want to cater to as many clients as possible. For this reason, it's prudent to bear in mind the different needs and constraints of your customers. Though budget is certainly one of those constraints, another that many proprietors overlook is time. While a great number of customers will certainly want to take full advantage of the knowledgeable and friendly service provided by staff, others will want to make a purchase and be on their way. A savvy store owner should have an express or pre-order option for those customers. Technology will also help greatly in this regard; there are apps that allow customers to order ahead of time and simply pick up their order when they arrive.
One of the Top Ten Most Beautiful Dispensaries
Throughout the Pacific Northwest, there are legal dispensaries with interiors that really stand out. One good example is Farma, located in Portland, Oregon, which owes much of its beauty to the work of architect Anne Niedergang. It's captured imaginations too; Leafly named Farma to its Top Ten Most Beautiful Dispensaries in America list.
Sam Heywood, one of the owners and founders at Farma described the design process, saying, "When we sat down to design Farma with our architect in 2014, we thought of it as both an opportunity and a responsibility. It was an opportunity to write a new script, to help erase the stain of decades of prohibition, but it was also a responsibility. The medium is the message, so we knew we had to create a space that communicates the way we feel about cannabis, that it is modern medicine that can measurably improve people's lives. One of our touchstones has been: 'What would cannabis look like if prohibition never happened?' The result is a light, modern space that is designed to put people at ease. Our store, our packaging, our approach to service—all of it is a celebration of this plant."
A Large-Scale Design Project
Calgary's Spiritleaf has big plans to open stores nationwide in Canada and already has 100+ stores in the works. They've partnered with design firms Tricarico and Seven Point Interiors and have unveiled their first concept store.
Distressed woods and metals were carefully selected to add unique character.
Darren Bondar, CEO said, "We wanted to ensure that each location will provide an incredible experience for our future customers, employees, communities, franchise partners, landlords, and other stakeholders. We searched for a top design firm that would not only immerse themselves in our brand message with enthusiasm, dedication, and passion, but also design with honesty, nurture innovation, cultivate creativity, and strive to use sustainable materials that will inspire and resonate with our customers."
She added, "We wanted to create something completely unique, so that when a customer walks inside, they immediately feel the positive energy, and are embraced by the natural feeling of the dispensary. Within the confines of the walls, a new community is established where all are welcomed. The crisp white walls help brighten the space and create an extension from the fresh outdoors. Distressed woods and metals were carefully selected to add unique character to the space. We wanted to allow the walls to tell the stories of the brand, so Spiritleaf's community members will always embrace their journey and never forget where they started!"
Don't Delay your Design
It's clear that there is going to be a lot of competition among stores, so designing a space that creates an enjoyable experience is more important than ever. Whether you go it alone, or enlist the help of design experts, there's never been a more important time to consider how your store reflects your brand.
Tags:

cannabis branding

(5)

, cannabis store design

(4)

, design retail cannabis

(1)

, dispensary

(1)

, dispensary design

(1)

, retail store design

(1)