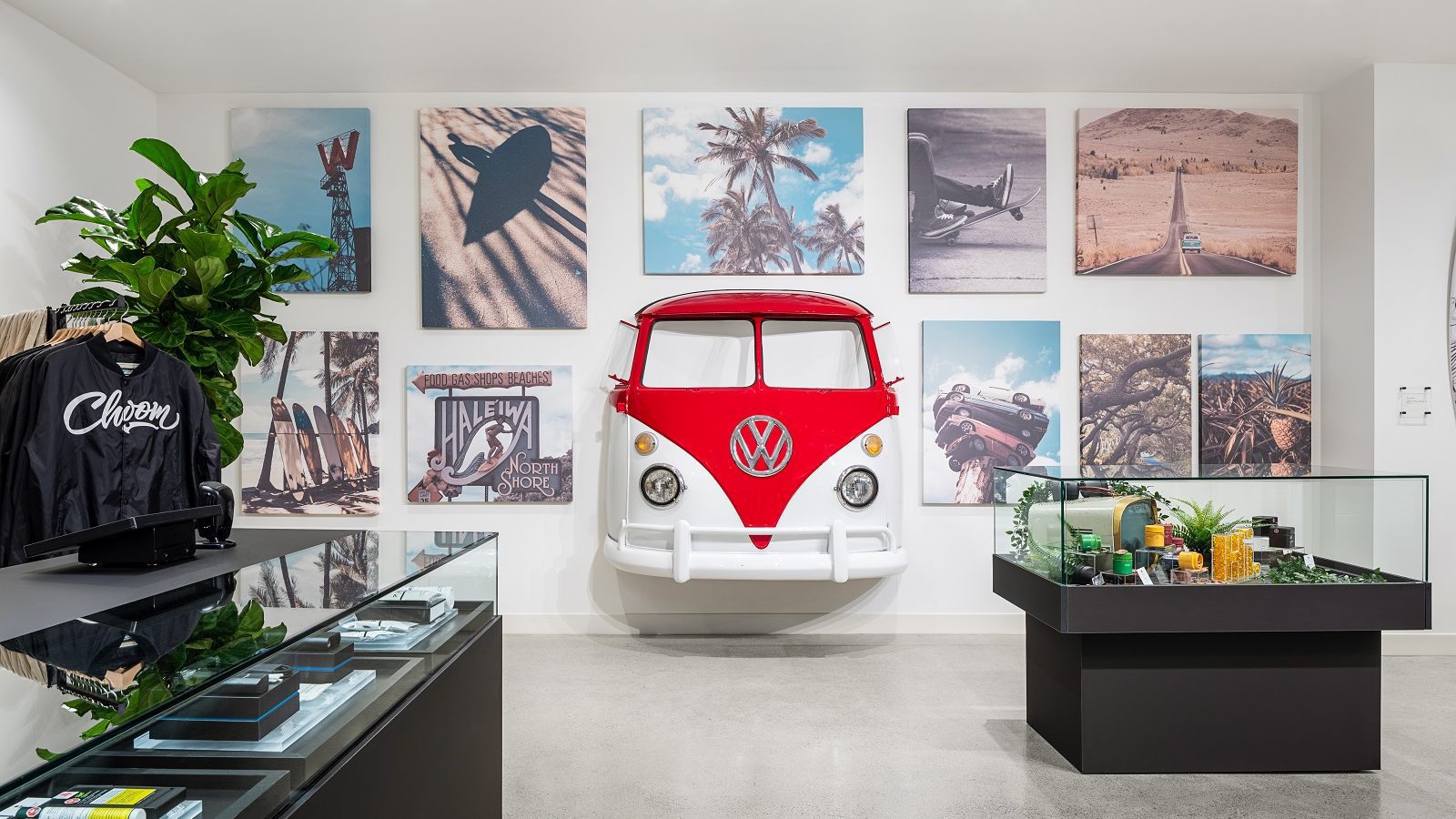 Choom Cracks BC Retail Market
Earlier this month, Alberta-based retailer Choom opened its flagship store in Vancouver's Olympic Village, but it didn't come without its challenges. Even as the country reels from the effects of a global pandemic, the Choom team opened the doors on May 15 to welcome customers from a safe distance.
Like many businesses opening during this time, they had to strike a balance between the celebration they wanted and what was safe for the public.

"We didn't want to create too much of a crowd that would put people at risk," says Corey Gillon, Choom's CEO, "We want to generate traffic, like any business, but to do it in a socially responsible way."
Unlike other budding cannabis stores, Choom luckily didn't run into too many snags when it comes to construction delays or hiring issues, but hit a roadblock at the licensing phase. According to Gillon, it seemed to take longer to get the ball rolling with BC regulators than other provinces, but once it got going things happened quickly.
Becoming a cannabis retailer in BC has been quite difficult for national players to get into, seemingly, because of BC's tied-house rule. This is when the applicant for a retail licence has a direct connection with a federally licensed producer, and it will get your application denied.
Gillon is proud to be allowed to open up a store in the much-coveted territory. "I think it helps differentiate us from some of the more significant players in the industry, because they have yet to crack the code to BC," he says. "It's almost like a protected trade area."
Their location in Olympic Village is the cream of the crop for downtown Vancouver. According to Gillon, the busy street sees upwards of 60,000 cars every day and lots of foot traffic from young professionals working in the area. The company plans to build out a halo effect from that point, expanding into Yaletown, Kitsilano, and Coal Harbour.
Despite Choom's headquarters being located in Vancouver, they do most of their business in Alberta, focusing on population centres outside of major cities, where there is a vastly different type of consumer.
"The consumer behaviour in Vancouver is a customer that is very well educated–a young professional–and there is a strong legacy market from both black and grey markets," Gillon describes. "It's a sophisticated customer that we anticipated in many ways, and have seen so far in the store, as well as from the diversification of purchasing patterns."
He notes that the customers they are seeing so far in Olympic Village tend towards premium flower and vape products, looking to spend a little more on higher-quality and try out new products.
Diversification is good for a business, and according to Gillon, choice is one of the main things that Choom brings to the neighbourhood. Not only that, but the store provides legal access to an area that is surprisingly lacking.
"The retail cannabis sector is just starting to emerge," he says, referring not just to the BC market, but the national one as well. "There is a significant amount of demand and there isn't a large enough network of retail stores to meet that demand."
Choom has major plans for the future and as more brands like theirs emerge and grow and provide their unique take on the industry, Canada could cement its place as the role model for cannabis legalization worldwide. Gillon concedes that there is still a lot of work to do to provide access to legal cannabis for everyone and a long road ahead before the industry manages to iron out the kinks.
"It's not without its bumps and hurdles, but like with most organizations in the sector, it was easy to stumble out of the gates, but you really need to be agile and make sure you've got your helmet on."
Photo credit: Luke Potter
Tags:

Alberta cannabis

(46)

, Alberta cannabis retail

(11)

, BC cannabis retail

(15)

, British Columbia cannabis

(35)

, Choom

(8)

, COVID-19

(45)

, Vancouver cannabis store

(3)