Modern retail brand Hobo Cannabis Company brings a heart of hospitality to the cannabis industry, built on Donnelly Group's two decades of deep experience as publicans running pubs, cocktail clubs, and even barber shops. Eager to take service-forward elements of the bar experience into the world of cannabis, Donnelly Group took the same hospitality and retail framework that had been such a success for them in the past, and applied it to creating a welcoming cannabis retail brand.
Genuine empathy for customers is a key focus of Hobo Cannabis Company's retail experience, swapping out bartenders for budtenders and making the shopping journey as seamless as possible. Drawing on a pool of talented operators across the country, Hobo Cannabis Company designed their store concept based on creating a welcoming experience for all.

Leaning on an agile team of entrepreneurial spirited folks and an existing hospitality infrastructure has enabled them to build a solid team with a strong work culture that puts the customer first. Creating the most convenient experience was also a cornerstone of the concept. Using point-of-sale (POS) and technology that was similar to the restaurant industry, the store experience got very granular to close the transaction gap and create a 'choose your own adventure' style of experience that allows customers to make a fast transaction if required. Customers can also feel comfortable slowly browsing and using the information kiosks to learn more about cannabis—helping to destigmatize cannabis and educate people about aspects of the experience, such as terpenes.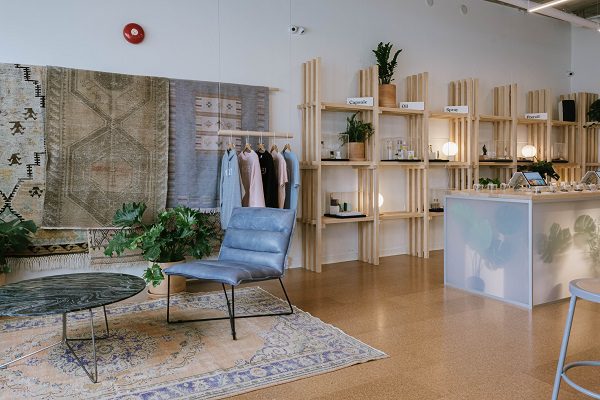 Store design is consistent across the multiple locations, which currently include five in BC (Vancouver and Kelowna), one in Alberta (Lethbridge), and two in Ontario (Ottawa), as well as five new stores due to open and more applications pending. Consistency in design helps to build a national brand and allows the company to streamline building costs and exercise creativity through constraint—keeping in step with legal requirements for opaque windows and a lobby area in some provinces.
"On entering all our stores there is a living room setting, which came about as a virtue of the constraints in Ottawa, where we had to create a small lobby," says Harrison Stoker, Vice President Brand at Donnelly Group. "The way we executed this was to include furniture, plants, and books to create an element of comfort and familiarity from the moment people walk in, so they have a sense of comfort and the stigma is eroded away. This is complemented with a great host program. We put our most personable people at the door with the intent to disarm customers in a positive way, so they feel ready to browse and purchase." This living room design worked so well in the Ottawa store that it became part of the standardized design for all outlets.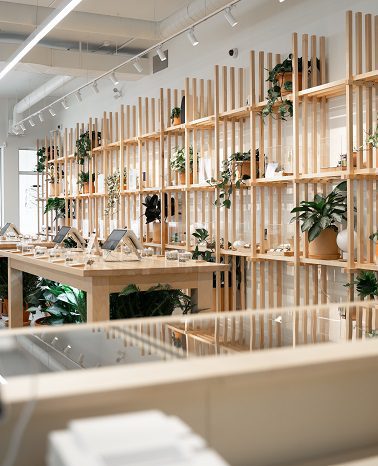 From the outset, the team knew that their major competitor was the black market. "We're not naive about it," says Stoker. "We identify that people are comfortable in the black market and we felt it was important to service that enthusiast by creating an environment that is radically different to what they are used to." Focusing on convenience, rather than education or guidance, the experience can be highly transactional, but the company made sure to have high-grade cannabis and well-trained staff to service this small sector.
"It's important to focus on an audience that may be new to cannabis or returning to the relationship," says Stoker. "We're looking at young professionals and smart creatives, who might be in their late 20s to 40s and once had a robust relationship with cannabis that was distanced by way of career, kids, house, etc. We want to rekindle that relationship with cannabis, so it doesn't feel overly intimidating, and we give the basic knowledge to guide."
Design elements include a decision tree that intends to simplify cannabis and make it easy to digest, based on an effects-based system that ranges from energy-enhancing products (perhaps sativas with limonene) to balanced THC/CBD offerings and more indica-dominant products high in terpenes, such as myrcene. Education continues with terpene tables that highlight the role that aromas can play in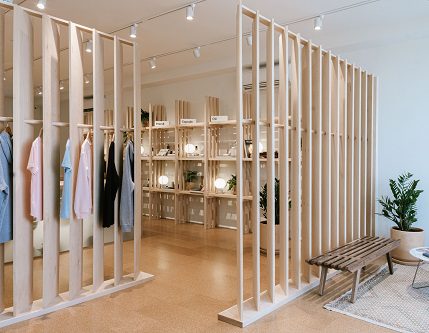 customer experience—instead of using isolates, the team went to their barbershop grooming lab to create blended essential oils that had more accessible and familiar smells; for example, lemon rind for limonene, lavender for linalool, and pine for pinene.
Combining hospitality with a heart and accessible education, Hobo Cannabis Company aims to make buying cannabis a comfortable experience for all. Taking the analogy of alcohol to explore the complexity of the plant, Stoker says, "It's the same as spirits. We don't talk about how much alcohol is in it, it's more about nuances of flavour and preferences. We're primed to be part of that evolution of the cannabis conversation too."
Tags:

Cannabis Retail Store

(47)

, Donnelly Group

(4)

, Harrison Stoker

(4)

, Hobo Cannabis Company

(3)