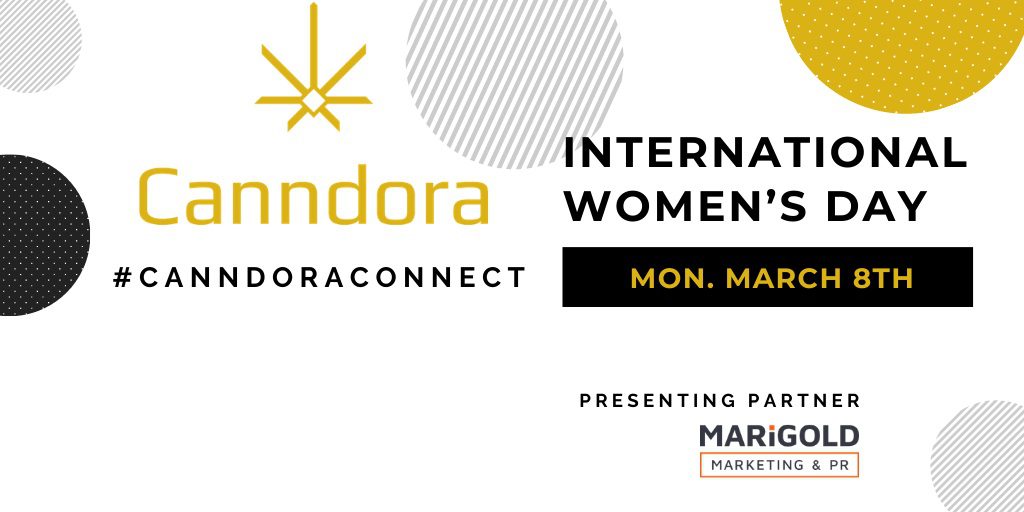 Celebrate Women's Day at #CanndoraConnect
Listen to influential speakers and network with leading industry experts in cannabis and psychedelics at #CanndoraConnect: International Women's Day. Topics include bringing cannabis products to market and the science behind cannabis and psychedelics; and its role in women's health.
This virtual event is open to audiences worldwide and will take place 2:00-4:30 pm EST on Monday, March 8th. The event will offer attendees a unique experience, providing collaboration, networking, inspiration, and advice for women's success in the emerging cannabis and psychedelics industries worldwide.

Industry leaders and speakers include:
● Tijen Talchin and Ashley Short, Co-Founders, Earth Kisses Sky
● Sabrina Ramkellawan, COO & Co-Founder, Knowde Group Inc. & President, Clinical Research Association of Canada
● Ashley Athill, CEO, HRVSTR
● Dr. Olga Chernoloz, Chief Scientific Officer, Wake Network
● Terri Smith, CEO, Wake Jamaica LTD.
● Susan Chapelle, COO of Purdenza
● Trina Fraser, Partner, Brazeau Seller Law
● Nicole Giffen, Director of Merchandising, Fire & Flower
● Lula Fukar, Founder, Cori
● Bridget Hoffer, Co-Founder and CSO, Marigold Marketing & PR
"I'm thrilled to be participating in another #CanndoraConnect event to discuss plant medicine and how psychedelic compounds are helping humans to thrive and overcome challenges. Cannabis and psychedelics are a large part of my personal and professional life, it's great to be able to connect and learn from other like-minded women in the industry," says Susan Chapelle, COO of Purdenza.
Cannabis Retailer is proud to be a media sponsor for this event.
The #CanndoraConnect: International Women's Day event is open to anyone 19+. Attendees are encouraged to register as soon as possible as spaces are limited. To purchase tickets, register on Eventbrite.
Tags:

cannabis event

(1)

, canndora

(1)

, canndoraconnect

(1)

, Marigold PR

(3)

, Women's Day

(1)