Retail Sales/Day Increase in February
While new Statistics Canada data makes it look like cannabis retail sales continue to drop post-holidays, sales per day are actually up 4.3% in February 2021 compared to January. Nationwide, retailers brought in $262.95 million in sales in February. On paper, that's a 5.9% drop from January's $279.49 million, however, with February having fewer selling days than January, that's actually right on track. In January, retailers were earning just over $9 million per day, whereas in February, that number was $9.39 million.
Provincial Retail Sales
Across the country, some provinces did see a small dip in sales. Manitoba and Newfoundland & Labrador seemed to be hit hardest, both experiencing a drop in sales of over 11%, but luckily it translated to only about 2% fewer daily sales. The majority of other provinces managed to get pretty close to even, however, Nova Scotia, New Brunswick, and Quebec did see slightly fewer sales.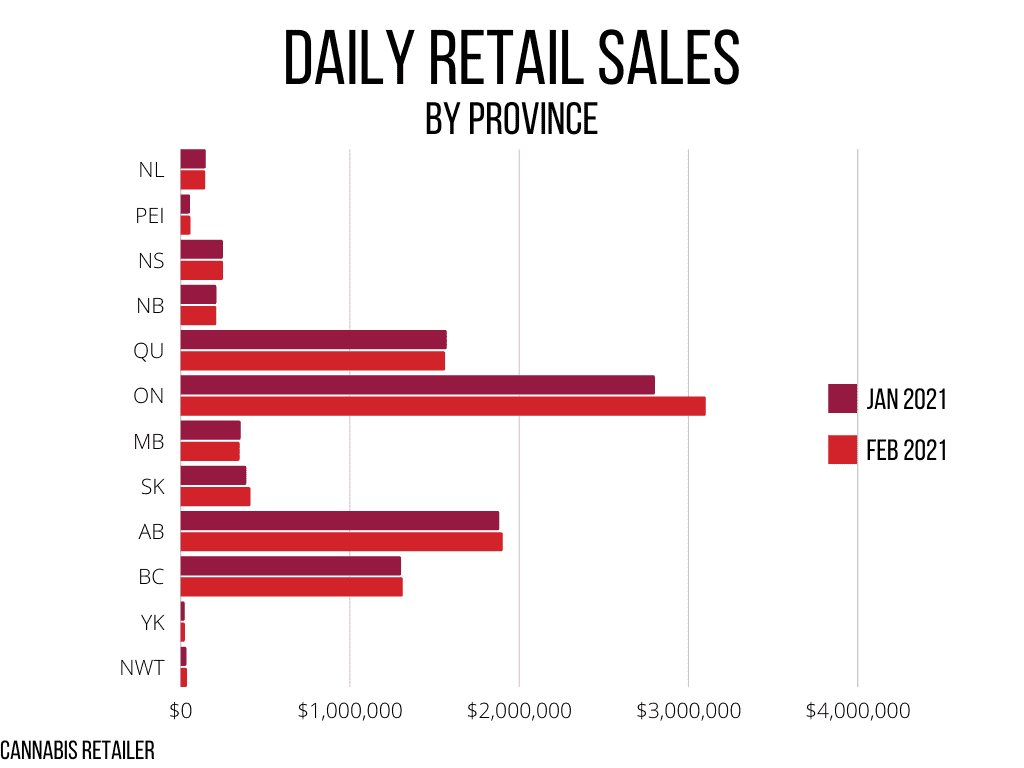 Unsurprisingly, as the Alcohol and Gaming Commission of Ontario (AGCO) rolls out more and more approvals, the province's monthly sales are increasing. Ontario was the only province to see an increase in monthly sales in February, but only 0.7%. This little bump translated to a spike in daily sales, causing them to go from $2.8 million in January to $3.1 million in February, a 10% increase. Similarly, the Northwest Territories saw an 11.5% increase in daily sales, going from $31,453 to $35,071.
Saskatchewan is keeping up as well. The province saw a 6.3% increase in daily sales between January and February, increasing from $385,710 to $410,107, and Prince Edward Island saw a modest 4.6% increase in daily sales.
Major Cities
Canada's major cities didn't fare quite so well, unfortunately. Out of the nine cities we have data for, six of them reported a decline in daily sales in February, though the largest dip was only about 4%, in Gatineau.
Toronto saw the largest rise in daily sales, increasing 8.6% from around $1.16 million to $1.26 million, while sales in Ottawa declined around 2%. Edmonton, too, saw a nice bump in daily sales of around 2% despite monthly sales dropping 7.5%. Calgary saw a larger drop in monthly sales of 10.5%, however, daily sales stayed steady.
In the next province over, Vancouver presents an interesting anomaly—despite provincial daily sales actually increasing, a rarity this month, Vancouver's daily sales plummeted 24%, going from $392,193 to $297,679.
Now that the bitter winter is over and parts of Canada are beginning to unthaw and start socializing outside again, sales will likely rebound going into the spring.
February Retail Sales by Province (x1000)
Canada: $262,957
Newfoundland & Labrador: $3,995
Prince Edward Island: $1,553
Nova Scotia: $6,937
New Brunswick: $5,835
Quebec: $43,799
Ontario: $87,830
Manitoba: $9,689
Saskatchewan: $11,483
Alberta: $53,372
British Columbia: $36,855
Yukon: $627
NWT: $982
Major City Retail Sales in February (x1000)
Montréal: $18,672
Quebec City: $5,422
Gatineau: $823
Toronto: $35,359
Ottawa: $7,826
Winnipeg: $7,058
Calgary: $14,220
Edmonton: $17,737
Vancouver: $11,135
Tags:

Cannabis Retail

(360)

, cannabis retail sales

(31)

, cannabis trends

(27)

, daily sales

(1)

, Statistics Canada

(50)